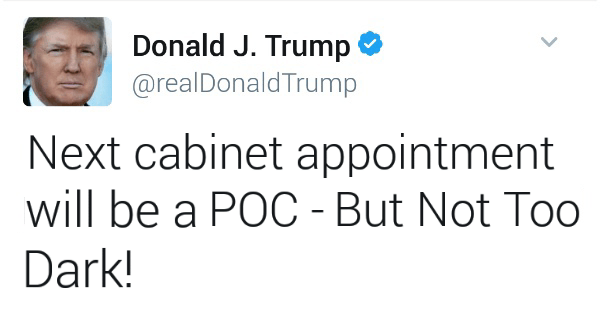 President-elect Donald Trump announced during an appearance on Fox And Friends this morning that his next cabinet appointment would be a person of color, before quickly adding "But not too dark!" while winking at co-hosts Brian Kilmeade and Steve Doocy.
Trump's cabinet picks so far have caused a fair bit of controversy. So far Alt-Right leader and alleged white nationalist Steve Bannon, and Jeff Sessions – a man once considered too racist for the Reagan administration – are getting the most criticism.
Many see this morning's announcement as nothing more than Trump's attempt at damage control, a claim that the billionaire does not dispute.
"No one has more respect for wo -" Trump started to say before correcting himself. "No one has more respect for blacks than me. I love them, just a wonderful people! Did I mention that Trump Tower makes the best collard greens in New York city?"
"I don't want the blacks angry at me, you know how they get when they're uppity!" Trump continued. "So I'm going to hire the best person of color to be in my cabinet, just a tremendous person!"
Trump went on to specify that he was looking for someone of "medium to light darkness…more Rashida Jones than Whoopi Goldberg" so as to keep the rest of his cabinet from feeling too threatened, or pasty.
"They have them now, and Steve you know this, they have them now where they're so light they're only a little black," said Trump to a visibly uncomfortable Steve Doocy. "That's what I'm looking for."
Trump went on to mention that Melania, who is re-decorating their apartment interior, listed the ideal color somewhere between "Desert Tan and Havana Cream" on the Pantone paint color chart. "Definitely nothing darker than Havana Cream," he reiterated.
When asked by the two hosts which cabinet position he was hoping to fill with a person of color, Trump first joked "Secretary Of Rap Music" before giving the more serious answer of Department of Housing and Urban Development.
"A lot of those people live in the inner city. I know, because that's where I refuse to rent to a lot of them," explained Trump. "Who's better suited for a job with 'urban' in the title than someone from the streets?"
As to whether or not Trump has anyone specific in mind to be in charge of HUD, the former reality-TV star says he has a few ideas. "I was thinking maybe Nicole Richie,"said Trump. "Very nice girl, very rich…very pale."
"Or maybe Dwayne 'The Rock' Johnson," Trump continued. "I do love my wrestling!"
Trump ended the segment by assuring his loyal supporters that despite his decision to hire a person of color, he is still the candidate that they voted for.
"Hey, I said burning flags was a no-no," said Trump with a smile, "I didn't say anything about crosses!"