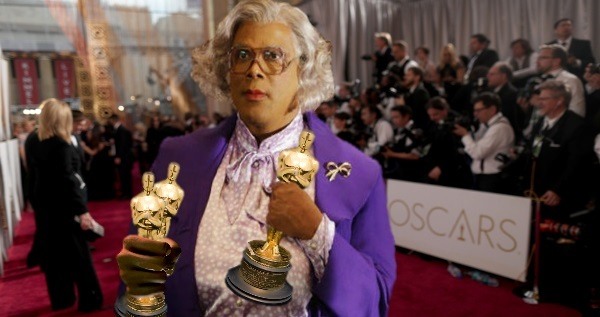 In an effort to avoid a repeat of last year's #OscarsSoWhite debacle, the Academy of Motion Picture Arts and Sciences has nominated Boo! A Madea Halloween for 8 major awards at this year's Oscars. The nominations run the gamut, including best picture, best score, and for the first time in Oscar history a triple nomination – best director, best actor and best actress – for Madea star Tyler Perry.
The "OscarsSoWhite" hashtag was used by many last year to point out the academy's lack of diversity when handing out nominations, something the Academy took to heart when deciding the nominees for the 89th Academy Awards ceremony.
"We wanted to make sure that we had plenty of minorities up for big awards this year," said academy Vice President Kathleen Kennedy. "Tyler Perry is not only black but something at least resembling gender-fluid, so by nominating one of his Madea movies for every major award we get to tick off at least two boxes on the diversity checklist at the same time!"
"The 2017 Oscars are gonna have diversity in spades!" Kennedy continued, before realizing the racial insensitivity of her comment and then scrambling to clarify her statement. "I don't mean African-Americans, those people aren't the spades I was refer- I don't mean 'those people' er…fuck it, Trump won, why am I sweating this?"
While Boo! A Madea Halloween may have a predominantly black cast, the film also has a dismal 21% rating on Rotten Tomatoes leading many to wonder why the Academy passed over more traditional awards fare such as Fences or Hidden Figures in favor of Tyler Perry's ninth time running around in a wig and muumuu.
"To be completely honest," said Academy Secretary David Rubin, "We went to Wikipedia and looked up a list of African American films that came out in 2016 and Boo! A Madea Halloween was the first film on the list."
"It could have been worse," Rubin continued. "We almost nominated Amistad for best picture until one of our interns realized that they forgot to type 2016 into the search bar. That would have been embarrassing!"
As for Perry himself, the Alex Cross star has mixed feelings about all of Boo! A Madea Halloween's Oscar nominations.
"I'm flattered, I truly am," said Perry from the set of his newest film Madea's Hysterectomy. "But I almost feel like the nominations were arbitrary. If they were really basing them on artistic merit the academy would have nominated me for best supporting actor for my performance as Baxter Stockman in Teenage Mutant Ninja Turtles: Out of the Shadows."
Despite all of Boo! A Madea Halloween's Oscar nominations, academy president Cheryl Boone Isaacs was quick to reassure the predominantly white audience that actually watches the Academy Awards that the film isn't likely to actually win anything.
"Don't worry, La La Land will win all the big awards, and we'll probably acknowledge Casey Affleck for being the best rapist – er – actor – this year" said Isaacs. "This was really just a token gesture to get Twitter off of our back."
"In the end," said Isaacs, "It's the illusion of diversity that really counts!"