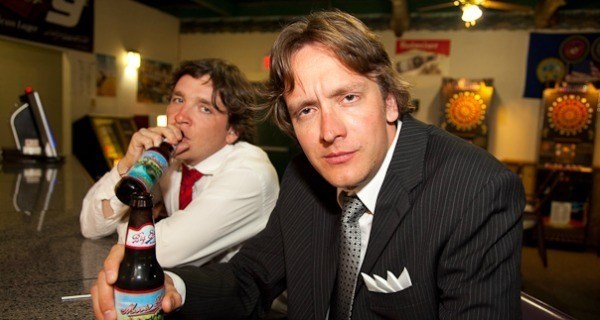 "Some guys would get overwhelmed being in bed with two women," the millennial posited, unprompted, shortly after we encountered each other last night at the local tavern. "Not me. I'm a born multi-tasker. I'll slam those pussies — both of 'em."
"I've never been with two women before. But I'll rise to the challenge. Literally!" continued the millennial, as I patiently waited for Cedric to return and finish filling my glass with cool dark Guinness. But Cedric had become distracted.
The millennial, whose identity I discovered to be that of Ryan Borowiec, 26, of Brooklyn, New York, was the sort of fellow who made eye contact when he spoke, but looked away when you spoke. I asked him if his threesome was to be this evening, and he clarified: "No, no, no. It's not like I have anything planned, this is all just 'if.' But I mean I am fully prepared for the situation. Y'know. Should it arise."
"My basic plan is to take an 'enough dick to go around' mentality," he added in response to my silence.
"It's most important to me that no one gets bored at any time," the millennial continued, as if I, his listener, had leaned forward, nodded my head, and said something to the effect of "do go on." In reality, I had crossed my arms, said the word "Oh!" and looked down at the bar.
"Maybe they'll just want to go at it with each other for a while. If that's the case, that's cool with me! But if it goes on long enough, I'd probably say something like: 'This is a threesome, and I came here to slam pussy, didn't I?! Lol.'" I didn't understand the last word, so I looked again for Cedric. He had just begun to serve a large bachelorette party who had just entered the bar.
I had hoped the millennial would walk over to the group of young women, some of whom were undoubtedly open to the possibility of fornication. He did not. Meanwhile, Cedric showed his largest tattoo to the maid of honor.
I jokingly asked the millennial if he was undergoing any sort of training regimen to prepare for the event. He explained that he was: "Every day I play piano for 90 minutes. That's to get my fingers loose. Then I play trumpet. That's to warm up my mouth. Then I fuck your sister! Hahaha! No, I'm just kidding." I did not laugh, for my sister is a child of twelve.
"Could I satisfy three women at once? I wonder about that one a lot," continued the millennial before becoming immediately lost in thought. At this time, Cedric returned with my beverage, and I escaped into the night.