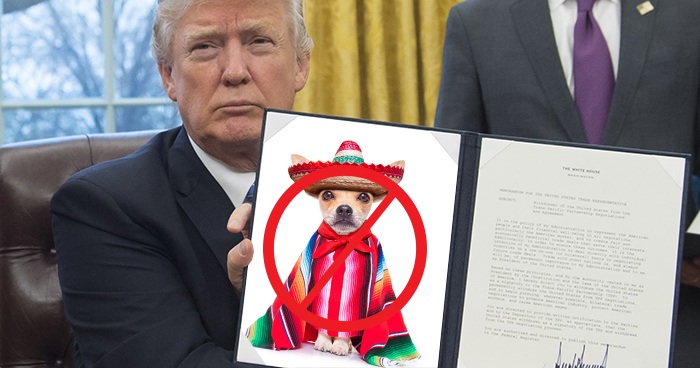 President Trump rolled out the latest revision of the aggressive immigration executive order this past Monday evening, suspending the beloved holiday "Cinco de Mayo" indefinitely.
"Hasta luego, you gotta go," Trump proclaimed as he signed the order from his Mar-a-Lago resort, sending shockwaves through his hotel staff, predominantly made up of foreign workers. "Except for my hombres, you're the good ones."
At the first ever rally held directly on the United States-Mexico border, Trump praised his own "beautiful" executive order following a performance by Ted Nugent.
Following Mr. Nugent's performance, POTUS responded to the fraternities and sororities protesting the ban on fake Mexican mustaches, serape blankets and half-off tequila shots. "As an American, you got the right to celebrate every goddamn country's independence day!" Trump proclaimed to the massive crowd. "I'm gonna let you eat your tacos! Because I love the Hispanics. I do! The best taco bowls are made in Trump Tower Grill."
Cheers rose to deafening levels as POTUS announced the new name of the holiday: "Just The Fifth of May."
Unable to speak over the roar of the booming crowd, Trump whipped out a megaphone and noted, "Cindo de Mayo stole your jobs! They stole your Ford cars and ya know what they did? They drove 'em over the border! It's chaos worldwide!" Not only will Trump change the holiday's namesake, he has vowed that Mexico will pay for the change.
"Don't worry, don't worry. ICE are my buddies. They love me, they really do. And they're gonna crack down on the nasty sanctuary cities hosting hateful Cinco de Mayo parades. The crowd erupted in piercing boos. "Taco trucks? Done!" He then led supporters in a rousing chant of "Build That Wall!" and "Corona is a crime!"
Back at the White House, Sean Spicer held a press conference condemning the criticism from the Ninth Circuit over the Cinco de Mayo immigration clause. "To our allies and partners around the word, we cannot put millions at risk by condoning another nation's independence, no matter how fresh the Bud Light Limes are."
Trump followed up the statement by blasting an ominous tweet at 4:00 AM, inquiring as to whether or not the 4th of July was actually unpatriotic.