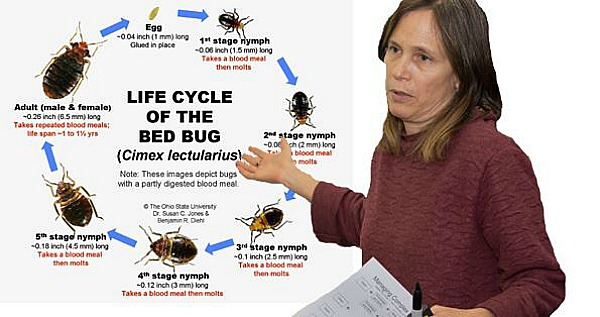 The New York City Department of Health and Mental Hygiene announced earlier this week that it will begin recognizing an extensive knowledge of bed bug facts and trivia as legitimate proof that residents live within the five boroughs, "plus Yonkers."
The change was implemented following the frustration that's resulted from residents being asked for multiple forms of identification in order to complete basic tasks.
"You're telling me I need a photo ID, two recent pay stubs, and a utility bill to prove I qualify for sliding scale services?," asked Harlem native, Andrea Quiles. "I somehow knew not to shop at thrift stores or even walk near unpainted wood surfaces in an effort to avoid bringing bed bugs home before I said my first word, what more proof that you're a New Yorker do you fucking want?"
In response to the significant backlash, certain government agencies have removed the need for identification entirely, should a person successfully recite random trivia regarding the parasitic insect on the spot like some sort of morbid entomologist or something.
"Sure, an official government identification card is standard, but honestly, when you're just carrying around the knowledge that bedbugs reproduce through traumatic abdominal insemination, we don't need to see your street address to know that you live here," said Department of Health spokesperson, Jennifer Greene-Feldman.
"Why would anyone know that if they didn't live here? Do you think people in Iowa know bed bugs can go up to a year without eating? Yeah right," she added.
City residents are reportedly overjoyed by the change in policy, which they consider to be the least NYC could do for forcing them to know the names of at least two bed bug-sniffing beagles in Brooklyn alone, and their Instagram handles.
"I moved to the city eleven years ago, and in that time I've come to understand more about the living, mating, and eating habits of bed bugs that I do my own boyfriend," said Astoria, Queens resident Eun-Ji Song. "I also know a lot about bugs that even remotely resemble what might be a bed bug, and am very good at identifying bites of all shapes and sizes. God, I'm getting itchy just talking about it."
Bedbug-ridden cities like Chicago, San Francisco, and that one weird hippie encampment behind the Bolton's near the high school in Branson, Missouri, are expected to follow suit by mid-2018.