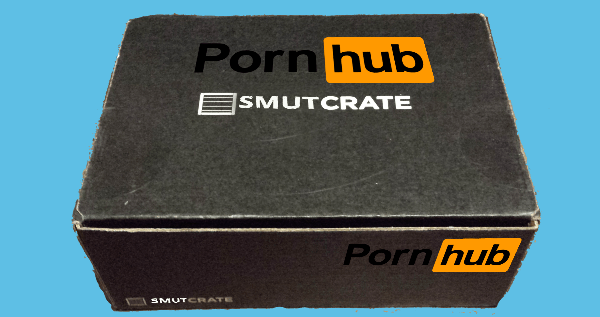 If you love Loot Crate and Birchbox but always find yourself thinking "this thing sure could use some dildos," you're in luck! PornHub has just announced the release of their own subscription box called Smut Crate and it's chock-full of erotic goodies.
"Monthly subscription boxes are the hottest thing right now," said PornHub's Vice President of Operations Corey Price. "So it only makes sense for the largest pornography site on the internet to get in on the action."
"Also, I just said 'boxes' and 'action' in the same sentence," added Price, with a wink and a nudge. "That's funny!"
Smut Crate is unsurprisingly priced at a hilarious yet steep $69 per month, but according to PornHub, the subscription will be well worth the cost. "It's not like we're just gonna throw a box of tissues and a Fleshlight in there and call it a day," said Price. "You're gonna get a box of tissues, a Fleshlight, and an exclusive collectible figurine!"
"We're going to have our own version of those Pop! figures that come in Loot Crate," explained PornHub's Vice President of Product Brett Hall. "Oh man, I can't believe I just said 'come in.' That's awesome!"
"The figures are called Pop! Shots," he continued. "The first one will be Alexis Texas followed by a new adult film star every month. They're anatomically correct and they're dishwasher safe!"
According to Hall, the Pop! Shot won't be the only thing changing every month, with each Smut Crate set to have a different fetish-based theme, containing corresponding merchandise inside. "September's Smut Crate will be BDSM-themed and will include a roll of duct tape, a whip, and a ball gag," said Price. "Then there's the watersports box in October, which will come with a diuretic, a catheter, and a golden shower curtain. November is German retro-themed… you don't even want to know what comes in that box."
For those subscribers who want to keep their porn consumption on the down-low, Price and Hall assure users that Smut Crate will be shipped discreetly. "Each Smut Crate box comes wrapped in plain brown paper," said Price. "That way your parent or spouse will have no idea what a degenerate pervert you actually are."
Hall is so sure of Smut Crate's success that plans for expanding the brand with new subscription boxes that cater to different demographics are already underway. "We're gonna do an LGBTQIA Smut Crate next, followed by a Lady Smut Crate with vibrators and chocolates and…I don't know, cards from Etsy and stuff, I guess," he explained.
"We thought about doing a pet-themed box but, unfortunately, the number of states we could legally ship it to would be far too small for us to turn a profit," Price stated. "Plus, our poor intern is now on a government watch list just for researching the subject."
"I guess you could say … we really screwed the pooch on that one! BAM, nailed it!," Price laughed, while sharing a high-five with Hall.