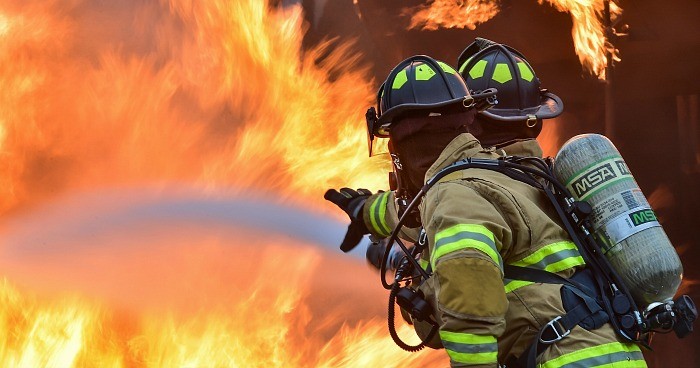 Eugene, Oregon residents Natalie Turner and Matt Vimislicki were astonished to learn that their recently purchased tiny home made perfect kindling for an incredibly awesome, gigantic fire, early this morning.
"Holy shit," Vimislicki stated. "I mean, just like, wow. You really should have seen it."
The couple was awakened around 3:30 AM when an outlet in their tiny kitchen, a mere three inches from their bed/convertible work desk/back of tiny toilet, shorted out, resulting in a surprisingly enormous electrical fire.
"I really didn't think 187 square feet could look so big, but that limited space opened right up and reached really, really high," Vimislicki added, of the 30-foot tall flames that engulfed the former abode.
While the couple is devastated to have lost all of their worldly belongings in the blaze, they admitted that they can't help but feel a little proud of the colossal inferno that resulted.
"I'm not gonna lie, I'm really impressed," Turner admitted. "So much of that house involved us compromising and settling and still living like we were staying in a European hostel, so the fact that this thing made the national news kind of made it worth not being able to change sexual positions for a few months."
"Plus, we had to get rid of most of our stuff just to move in there, so we only ended up losing two Nalgene bottles and a little plastic Tupperware full of old chargers I still had for some reason," she added.
Real estate broker Tina Scott, who specializes in tiny home sales, explains that in addition to affordability and low environmental impact, "giant fire-making material" is just one of the many things a tiny home has to offer.
"People think tiny homes are just glorified double-wide trailers for recently divorced hippies and young hipster couples, but once you've seen one serve as the finest kindling anyone could imagine, you'll realize that the lack of space and practicality is well worth the sacrifice," she said.
While the couple was able to make it out of the home unharmed, Turner's aunt Joanne was unfortunately killed in the disaster after becoming trapped under a fallen tiny beam while reaching for a tiny fire extinguisher.