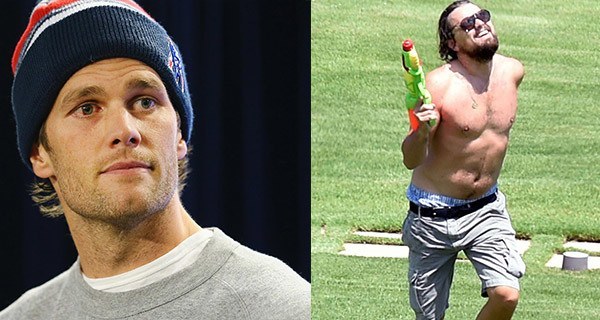 After a comprehensive investigation into Leonardo DiCaprio's deflated body, a just-released report confirms that Tom Brady was "at least generally aware" of the decreasing muscular definition of his wife's ex-boyfriend.
While Brady remains happily married to Gisele Bundchen, recent reports of DiCaprio dating Rihanna and cockblocking Justin Bieber raised concerns of the actor's seemingly bygone desirability. These incidents coupled with the dad bod phenomenon repositioned DiCaprio as a possible object of desire, which likely drove Brady to tamper.
The report details multiple incidents where Brady's complicity in DiCaprio's binge snacking was "more probable than not," including a gala in February where he watched DiCaprio dip approximately 32 strawberries into a chocolate fountain. Afterwards, the NFL star sent a round of Mai Tais to his table, whispering to the bartender, "And if you wanna top that with some whipped cream, who's counting calories?"
Brady maintains that he was completely uninvolved in DiCaprio's increasingly shapeless body and stands by his "I didn't alter the flab" statement from January. However, the report claims that Brady sent a package of peanut butter Combos to DiCaprio's 40th birthday party.
Incriminating texts between Tobey Maguire and David Blaine—two members of DiCaprio's "Pussy Posse"—were also included in the report:
Maguire: I have a costco tub of cheese puffs for u this week

Blaine: we better get that coke

Maguire: Fuck tom… make sure u add m&ms to the party mix

Blaine: u stock the freezer w klondikes?
DiCaprio could not be reached for comment as he's been on a three-week yacht bender, which only models and Jonah Hill were allowed to attend.
Hungry for more dad bods? Check out 22 Corgis With Slamming Ass Dad Bods.