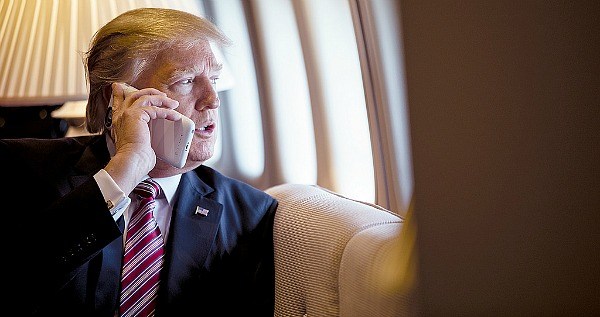 Looking distraught over his brightly lit phone, President Trump was reported to be "really mulling it over" earlier today in an attempt to determine whether the assailant responsible for a recent shooting was "dark enough" to tweet about.
"I can't just be tweeting without all of the facts," explained a pensive Trump as he watched Fox News, waiting for the name of the shooter to be released. "If this loser is even just a little bit brown, the people need to know about it."
In an effort to explain the analytical process of the president, Press Secretary Sean Spicer explained at a briefing just moments ago that, "[The President] is going to take brash, uncalculated steps when it comes to tweeting about any recent or active shooters. He is careful and methodical when finding out the tint of the person's skin, and whether those findings will warrant a tweet about how Muslim terrorists are definitely plotting to take over our way of life. No more questions."
The Trump administration has been scrutinized in the past when the president mistakenly tweeted about a terrorist shooting before becoming aware of all of the facts, a move prompted by a high-speed chase scene from the Michael Bay movie Bad Boys II as it played on an Air Force One flight.
With precious moments of un-tweeted daylight ticking away, Trump's team continues to anxiously await any news whatsoever in regard to the race or apparent religious affiliation of the suspect.
"Even if we don't have a direct visual of the shooter, a name can go a long way," stated Vice President Mike Pence. "Something with a lot of vowels smashed together is a good indicator that we should have President Trump send a tweet ASAP."
As of press time, there is still no indication of the color of the shooter, however, Trump remains confident in the ordeal's ability to gain a lot of press coverage for its mere placement within the borders of a country "that has a lot of white people in it."