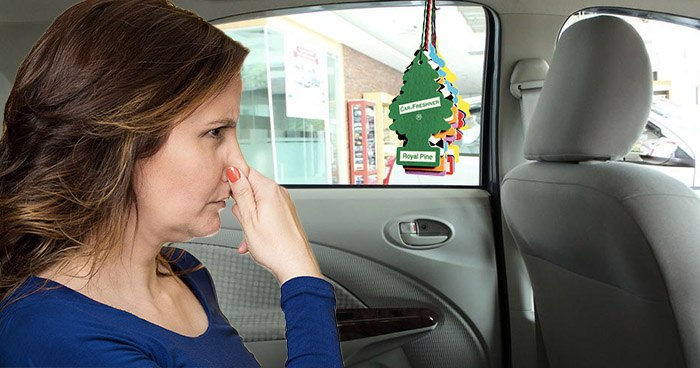 For the past eight years since its inception, Uber has faced numerous waves of criticism for massive public missteps. Now a local mom fresh off an Uber trip has launched a verbal tirade that is causing yet another PR nightmare for the company, stating: "That Uber's air freshener was so overpowering, like way too much, I couldn't breathe, it was awful, and I couldn't even roll the window down, I'm so happy we're out of there."
Victoria Childs, 51, of Kankakee, Illinois, had no idea she'd be at the center of a international debacle with a mega corporation when she hopped into an Uber with her 28-year-old son this past Saturday.
The plan was to eat brunch at a cute French restaurant, but the morning quickly turned sour. After entering the black 2016 Hyundai Elantra, Mrs. Childs found herself in one of the most uncomfortable positions of her life – no small claim for a woman who has served as hospice nurse for 37 years, had her gallbladder removed, lost both her parents in the span of a week, and gave birth three times without epidurals.
"Being in that Uber was dreadful. The smell! Oh my god the smell! It was like I was swimming in an ocean made of lemongrass water – and I love lemongrass! Love love love it! But now I hate it. I don't think I'll be able to eat a Lemongass Chicken Salad from PF Changs ever again, and I love PFs. It's my favorite! Or should I say, was my favorite. So now that means I have to find a new lunch spot for me and the girls from work, you know the girls: Cynthia, Sally, Veronica, and George – he's the only guy but we still call him 'one of the girls' and he doesn't mind. I mean, I think he doesn't mind. Oh no! I hope we haven't been offending George, he's the best! Such a good father and husband and nurse. The man is a saint."
She then continued on, seemingly without taking a breath, "What was I saying? Oh! Wait. No. Yes! So then the window wouldn't roll down. I asked why and the driver said it was broken but he couldn't afford to pay for the fix because he doesn't make enough money despite working for Uber 70 hours a week. Can you believe that? 70 hours a week and the man can barely provide for his family. That's depressing. So then I felt bad for this poor man who has three kids and a wife at home to support on top of feeling physically ill from the odor and the stuffiness and the window situation. It was insane. It felt like we were in there for a million years. Then when we finally got out it was like WOOOSH, real air, yes! Finally! It felt like heaven."
The news could not have come at worse time for Uber. A little over a week ago, it was revealed that the personal data of 57 million Uber users was exposed following a massive hack. Now that word of Mrs. Child's diatribe has gone viral, the company stands to lose additional billions in revenue from lost sales from the coveted 'mom' demographic.
Uber declined to speak about the matter, but when reached for comment, Victoria's son Jonathan stated, "I honestly didn't think it was that bad. It was like a six minute ride."