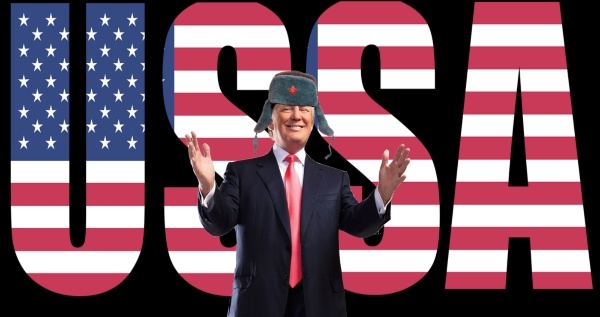 Donald Trump recently added another item to the already sizable itinerary for his first day in office: changing the name of the United States of America to the United Soviet States of America, or USSA.
The announcement came via a tweet that the President-elect sent out during one of his now routine 3am tweetstorms sandwiched between a tantrum over Alec Baldwin's performance on the previous night's SNL, and a reminder that red Trump hats were currently 15% off on the official Trump online store.
"It's a great name, it really is. I promised 2 have a very good working relationship with Russia, this is only the begining" Trump tweeted, before deleting the tweet and then putting it back up two minutes later with the word "two" spelled out and an extra "n" in the word 'beginning.'"
Trump himself declined to talk to the press directly about his decision, instead leaving his advisor Kellyanne Conway to go on various news shows and defend his plan to rename the country.
"The very idea that President Trump is somehow indebted to Vladimir Putin for helping him win the election and that renaming the country is part of paying that debt back is downright absurd!" A very tired looking Conway told CNN's Jake Tapper. "President Trump is just taking steps to keep relations between the US – I'm sorry the USS – and Russia copacetic." Conway then quickly noted that she couldn't "KGB-lieve that the liberal media was continuing to spout conspiracy theories." A visit to MSNBC yielded similar results.
No one is quite sure yet if the President even has the power to make such a change, as no president has ever attempted to change the actual name of the country. Many companies, however, such as NBCUniversal's USA network and the United States Postal Service, are already taking precautions to safeguard their names should the USSA become a reality.
The Fox News network has reacted positively to news of the name change, and has even adjusted their programming accordingly.
The first episode of Fox & Comrades airs this Monday at 6am.