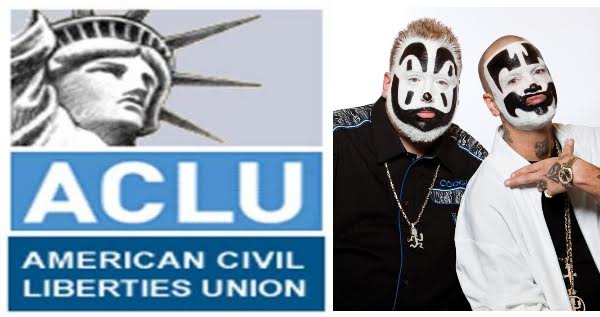 Fans of ICP suffered a heavy blow yesterday when the ACLU released a statement on their website declaring Juggalos the last remaining group that it's acceptable to discriminate against with no legal repercussions.
"The American Civil Liberties Union exists to protect the rights and liberties afforded to everyone by the constitution," began the statement, "but even we have to make an exception sometimes and that exception is anyone who routinely listens to the music of the Insane Clown Posse, a.k.a. Juggalos."
"The ACLU defends many marginalized groups – African Americans, Women, people in the LGBT community, Muslims, the obese – it's an intimidating list and it can leave people feeling like there's no one left that they can legally make fun of," explained Anthony D. Romero, head of the ACLU.
"We totally sympathize with that and that's why we've given bigots everywhere a safe target in Juggalos. We want people to know that they won't face any lawsuits from us if they refuse to bake a wedding cake with a giant hatchetman on it. I assure you that we here at the ACLU hate those Faygo drinking, grease paint wearing mother fuckers as much as you do."
The statement went on to define a Juggalo as "anyone who makes or responds to calls of "whoop, whoop," anyone who refers to him or herself as a "wicked clown," or anyone who "generally lacks a basic understanding of magnets." The statement also referred to the annual "Gathering of the Juggalos" event as "A sad excuse for garbage people to put on white and black makeup, throw on their best sleeveless t-shirts, and huff fumes out of spray paint cans."
"There is no such thing as hate speech when it comes to Juggalos" said Romero. "You can call them 'Juggahoes,' yell out 'Twizted sucks!' It doesn't matter. As long as you don't denigrate another minority or protected group in the process, nothing is off limits when it comes to these silly bastards."
The ACLU's statement went on to further describe Juggalos as "the only group in America that both the alt-right and SJWs hate equally" and claimed that both Milo Yiannopoulos and Rachel Maddow have referred to Violent J as "Clown Hitler" at one time or another, an insult that Romero calls "a bit harsh to Hitler."
When asked what made the ACLU – who had previously defended ICP when the FBI tried to classify the group's fans as a gang – change their position on Juggalos, Romero answered, "I finally listened to their music and it's just…the worst."
The ACLU concluded their statement by pleading with the public to keep their discrimination against ICP fans non-violent but added that if a "Richard Spencer type situation" presents itself "the American Civil Liberties Union cannot publicly endorse your actions but we will supply you with a handi-wipe on the DL to clean the face paint off your knuckles."