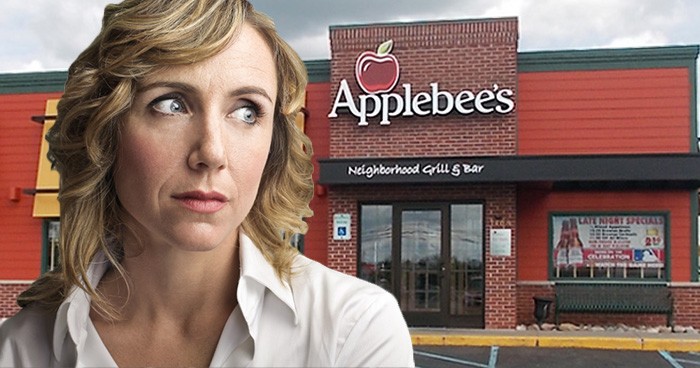 Last Friday night, mother-of-three Maria Sadicki joined her friends at the Salem, New Hampshire Applebee's for late dinner and drinks. After leaving her husband of seventeen years in the fall, Sadicki had been eager to start dating again.
With three margaritas and a few bites of spinach artichoke dip in her system, this soccer mom found herself in a position she hadn't been since her twenties: making eyes at a complete stranger. "There was something special about him," Sadicki commented. "Maybe it was the all-you-can eat ribs being delivered to his table every twenty minutes, but I couldn't look away."
When the stranger, with just a bit of sauce lingering on his lip, motioned to the bathroom, Sadicki was surprised to find that she was tempted. "All the unlimited soup and neon lights go to your head," she reported. With one last look at a framed college jersey and a replica Elvis guitar, Sadicki covertly got up and followed him back to the unisex restroom.
While perhaps an expert on barbeque ribs, her partner reportedly had significantly less knowledge regarding carnal activities. "The bathroom was not as romantic as I had imagined and also not as sanitary," she reported. "To be honest, I think I got more out of the sink spigot than I did from him."
Fifteen minutes later, Sadicki says she left the stall feeling unsatisfied. Unlike the candles on a nearby birthday dessert, the unisex Applebee's bathroom was notably devoid of a flame. Straightening her hair, she joined her friends lamenting, "I guess hooking up with a random dude in midtier chain restaurant isn't how I remembered it."
Despite this offputting experience, Sadicki refuses to stop looking for love. "Like I always tell my kids, just because you fail the first time doesn't mean you should give up." Sadicki has plans to put herself out there again next week, this time at Chili's.