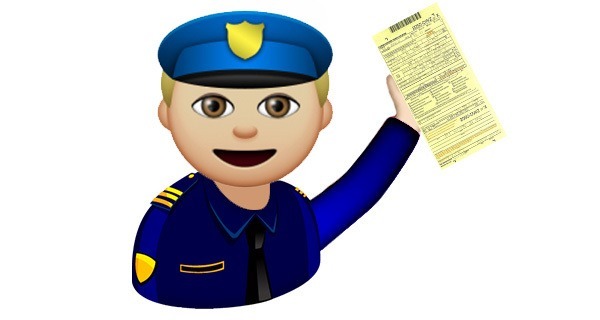 To celebrate National Emoji Day, Apple has announced they will be adding a new emoji to their lineup: a cop issuing a minor traffic violation.
The practice of cops pulling over drivers of color—despite having no legal justification to do so—has become so common, Apple decided it was time to give users a quick, easy way to communicate the experience over text.
"Emojis allow you to quickly express an emotion through text, a format where it's often hard to find words that express the nuance of a situation," Apple said in the announcement on its site. "Now, when you're illegally targeted by an officer, you have the tools to quickly relay it with your own personal touch."
Perhaps not coincidentally, this follows the release of 300 new racially diverse emojis in April. Now, in addition to facial expressions, texters can choose specific skin colors to more accurately illustrate the civil rights abuse.
The cop in the traffic violation emoji is also available in six different skin colors, though Apple expects white will be the most regularly used by far.
The tech giant says it expects it will be just as popular as the heavily requested bacon and unicorn ones, which will also be released in the next update. However, the company offered one caveat in its announcement:
"We strongly encourage users who have been pulled over for a minor traffic violation to wait to text until the cop has driven away, as it's likely he will wrongly assume the phone to be a weapon. You probably already know that, but we're legally obligated to tell you anyway."