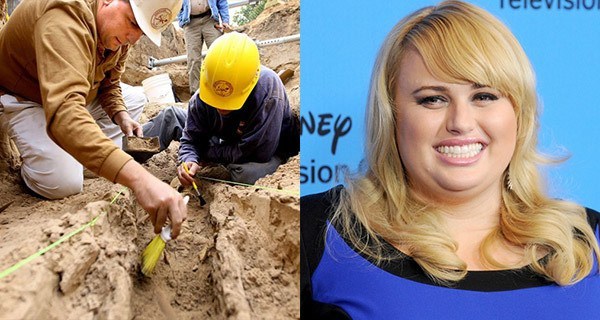 A group of all-male archaeologists recently discovered an ancient 35-year-old actress in Los Angeles, California. After weeks of DNA testing, they've identified the prehistoric specimen as Rebel Wilson, challenging the previously held theory that an asteroid caused actresses over the age of 30 to go extinct five million years ago.
Wilson's body was quickly transported to a lab at UCLA, where it's currently being held in an airtight container while further tests are run. Scientists used carbon dating to confirm her age, but further testing is still underway to see if they can gain insight into what sort of genetic benefits allowed Wilson to survive for over three decades. "It's an evolutionary miracle. The fact that she is this well-preserved is mind-blowing," said one expert.
"We ran her results against Ricki Lake and Roseanne Barr, but we quickly ruled them out as primitive ancestors who lacked the evolutionary tools necessary to not be punchlines in our eyes," offered a scientist. "She's probably closest to Melissa McCarthy, though we suspect a 44-year-old lead who weighs over 115 pounds is an unrepeatable evolutionary mutation."
Some have theorized that Wilson's bones could possibly date even further back than the dawn of homo sapiens. If that's true, it would mean a new link between modern humans and our ancestors. "Those 7-million-year-old skeletons we found in Kenya are spring chickens compared to unearthing Rebel Wilson. There must have been some very special biological forces at work."
Once testing is complete, the group has agreed to donate her body to the Museum Of Natural History, where it will be featured in the upcoming "Dinosaurs: History's Monsters" exhibit.
Meanwhile, Suki Waterhouse has been recast to play her role in Pitch Perfect 3 opposite romantic lead J.K. Simmons.
Interested in more groundbreaking scientific discoveries? Check out Newly Discovered Disorder Prevents Angry White Men From Understanding The First Amendment.