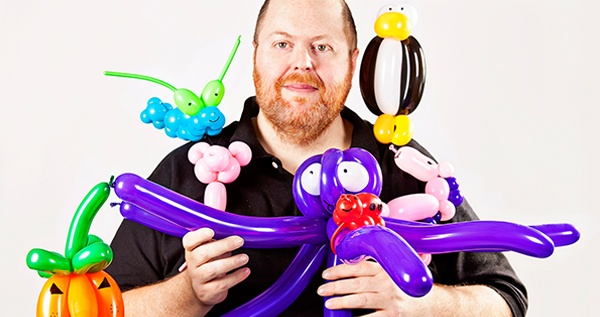 We've all found ourselves at a party, completely mesmerized by a balloon artist as they effortlessly create fun animals and festive hats. We've also assuredly thought to ourselves at one point or another, "Damn, this guy must be absolutely drowning in puss." One look at this local balloon twisting wizard you wouldn't think any differently, but New Hampshire balloon artist Brian Beeley has never once seen a naked lady!
"I know society portrays balloon artists as these wild sex machines just fighting the ladies off with a stick, but no, that hasn't quite happened for me yet," the 37 year-old balloon twister shared as he carefully fashioned a balloon into a giraffe. "Sure, ladies love a man who can whip up a Pikachu balloon or a classic flower bracelet, but my commitment to my craft hasn't made it easy to make time for any naked ladies," he explained while adding eyelashes to the giraffe.
For the last eight years, Brian has made his living working at parties as a magician, face-painter, and of course, expert balloon artist, shockingly none of which has presented him with the opportunity to see a naked lady.
"I took to the art of balloon twisting like a natural. I'm most well-known for my ladybugs and light sabers and no one, I mean no one, makes balloon poodles the way I do. Just look at those bubbles!" Brian exclaimed. "That's what we call a 'perfect poodle' in the biz."
Sensing that he may need some assistance or miracles, some of Brian's friends have even gone as far as surprising him with a trip to Motorboats, the local strip club, which reportedly did not go well.
"As soon as the ladies came out onstage, I got a bit nervous and started to feel funny.  Then I got a bloody nose, but I hear that can happen your first time," he said with a nervous laugh.
Another friend suggested he take advantage of the plethora of free pornography the internet has to offer.
"My friend Matt keeps telling me that there are naked ladies on the internet, but I guess I just want my first time to be special, ya know?"
Despite all odds, Brian remains hopeful that he will one day get to see a naked lady in real life soon.
"I've been working on this new elephant and I think it will really impress the ladies this weekend," he said adjusting his top hat. "And if all else fails, I guess I can make one out of balloons."