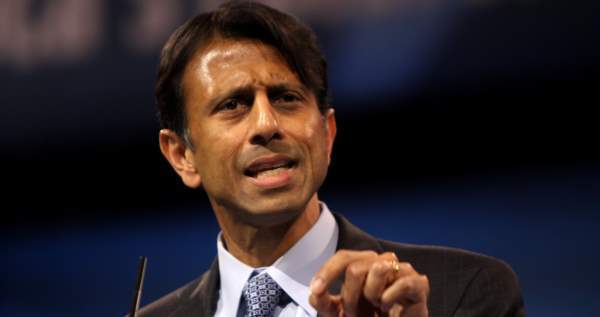 Bobby Jindal might only be polling at 1% as a potential Republican presidential candidate, but don't let that fool you: he has absolutely no chance of becoming president. Let's learn more about the candidate with these 10 Bobby Jindal facts:
1. Campaign slogan is "Tanned. Rested. Ready."—a bald attempt to gain endorsement from powerful GOP super donor George Hamilton.
2. Just came out from a two-hour soak in the bath, so please excuse his appearance.
3. Attended Brown University, where he holds the record for longest ongoing performance art piece behind sportscaster Chris Berman.
4. Seeks to make America great again, ostensibly in the vein of the post-apocalyptic Mad Max franchise.
5. Will conduct the remainder of his campaign over BBM.
6. Polls most strongly among construction workers, oil lobbyists, and Creole gangsters with multiple accent aigus.
7. Sickened by the mere idea that man descended from two lonely male gorillas.
8. Really clogged the toilet at the rest stop Rally's off I-10 in Baton Rouge, so don't go in there if you know what's good for you.
9. First American governor of Indian descent and 509th to exclusively serve corporate interests.
10. Who?