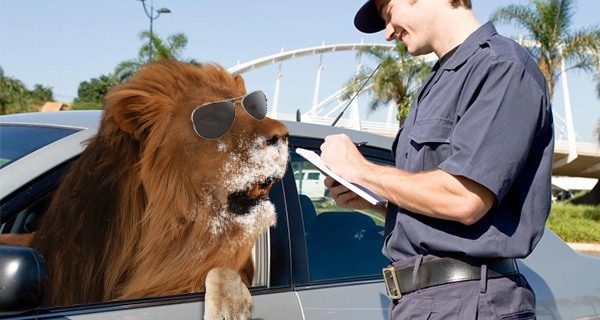 After being pulled over by a police officer in Galveston, Texas, an escaped lion speeding in a stolen Toyota Camry while under the influence of cocaine was allowed to keep driving.
Police officer Wayne Futchler spotted the suspicious vehicle driving at 140 mph on the Gulf Freeway yesterday morning. After a 10-minute chase, the driver finally pulled over.
"The glass was tinted," said Futchler, "so I assumed he was black and naturally reached for my gun. But when that window rolled down and I saw those shiny teeth and that handsome mane of hair, I knew there was no need for weapons."
Noticing white powder around the feline's nostrils, Futchler glanced toward the back seat, where he saw nine kilos of cocaine.
"Unfortunately, I'm gonna have to take that nose candy away, buddy," he told the 423-pound cat, "but just slow that car down and have yourself a great day."
Bernie the Lion, who had escaped from the Dallas Zoo the night before, was already deep into a drug-fueled spree involving guns, prostitutes, and hate crimes. However, Futchler explained that he used personal judgment and decided to let the lion continue on his way, ascribing his leniency to the recent illegal hunting of Cecil the Lion in Zimbabwe.
"If I was a lion, and I heard about the needless killing of another lion, I'd probably be torn up too. Bernie just needed a break. I wasn't gonna send him to jail just for having one night of fun."
Futchler joked with Bernie for a few minutes, but cut the chitchat short when he spotted a black man driving at the speed limit who he "just had a feeling was up to no good."
Since then, Bernie the Lion has continued to surprise and delight residents who have come across his path. One man even created a Kickstarter to raise funds to buy Bernie a new car.
"At first I was terrified when I heard a violent drug addict held up our local grocery store at gunpoint," he said, "but then I saw that it was a lion. A lion who probably has a family he needs to provide for. We all need a little luck sometimes."