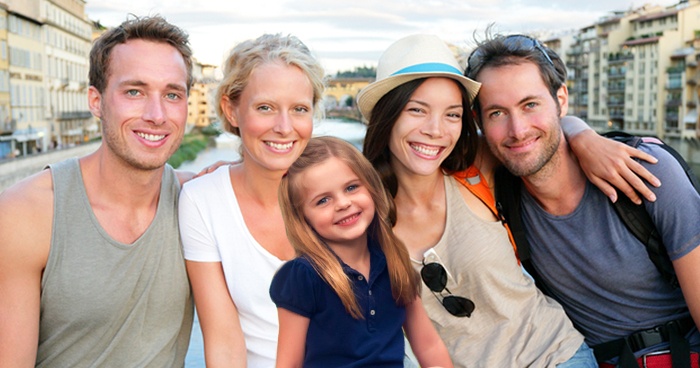 For some kids, divorce can be a scary, sad, and sometimes even traumatizing event. But not for little Riley Tabor; the five-year-old girl is now simply surrounded by twice the love. Her parents and step-parents attend every soccer game, school play, and teacher conference together; but what's truly remarkable is that they all fuck each other every Saturday. Wow!
"Riley's dad and I may have had our differences," says mom, Mia, "But it wasn't hard to agree on two things: that we'd always put Riley first, and that if we ever found love in our lives again, we'd all participate in a steamy, hedonistic sex-romp once a week."
Dad Curtis notes that some of Riley's peers aren't so lucky. "It breaks my heart when I see Riley's little friends who have parents that refuse to speak to one another. Mia and I weren't meant to be life companions, but that doesn't mean I can't anally tongue-fuck her a few times a month for the sake of our baby girl."
Step-dad David makes it a point to be flexible for the sake of his step-daughter. "Curtis is a wonderful father, and from the get-go, I knew I could never replace him. Riley's lucky to have so much love in her life, and all of us adults are responsible for making the effort to show her we can be civil around one another. That's why we spend Thanksgiving and Christmas together, and also why I fuck the ever living shit out of her step-mom while her dad watches."
David notes that it's really the little things that bind them together. "We all know that Riley's favorite food is hamburgers, her favorite movie is Mulan, and her mom has a priest fetish. If you can't humanize one another, how can you expect to keep the 'ILY' in 'family'?"
Riley's parents know their arrangement is unusual, but say they hope their story can inspire other divorced couples to put aside differences for the sake of the kids. "We know we're lucky, but it also takes work," Mia notes.
"We're committed to keeping our co-parenting relationship strong, and you better believe all four of us will be cheering her on as she gets her college diploma, and we can tell our little girl how proud of her we are before we head back to the hotel for another saggy old fuck fest."
Wow! We could all learn a lesson or two from this family, and we don't mean that in a weird teacher-student-punishment way.