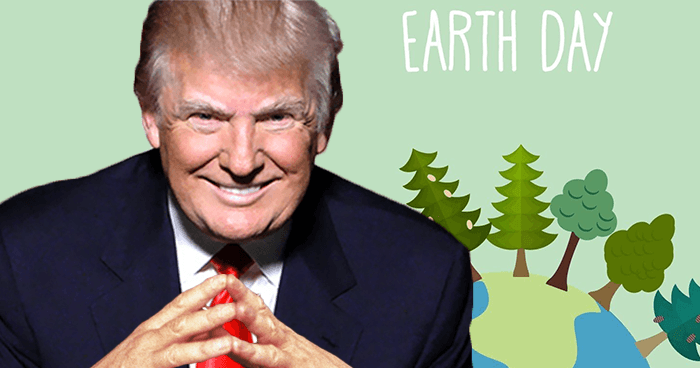 President Trump announced this week that this year's Earth Day will be "terrific," "full of class" and "an excellent finale for what should have been a great holiday."
"It's time to face facts, folks," Trump said to a throng of supporters in Corpus Christi, Texas. "We've had this holiday for decades. That's a lot of years. Have we seen any real results? No. Huge failure. And a huge waste of a day on our calendar. I'm sure we can all agree."
The President then announced his vision for a festival to be held on April 22nd in New York City, right in the middle of Central Park.
"We're pulling up every goddamn tree in that park," Trump said to raucous, wild applause. "Let me tell you, folks, I've been working in that city for a long time. And each day, I looked out at that waste of space and was reminded on how ineffective and incompetent the local New York government could be. They could have built a factory or a mall right there and put decent Americans to work. But no. Trees. They picked trees over people."
"Well, I'm President. And I say trees are losers and people deserve to be put to work, ok? You agree. You get it."
The crowd's cheering reached new highs as he announced what has already been added to the "Trump the Earth" festival's itinerary, which so far has included a Monster Truck rally, a concert from Kid Rock, and a spoken word performance from Jenna Jameson, who will give her views on radicalized Islam while eating a series of corn dogs.
"And we're gonna raise money at this festival, folks. Big money. And you know where that money is going? Coal. We're gonna put all that money into the coal industry that Obama took away from you good people," he continued. "The skies are gonna be so black, you're head will spin. Y'know, we have a saying in business. 'In the black.' That's good, that means money. And when you look up at that sky, what are you gonna see?"
Trump then cupped his hand to his ear as the loyal crowd screamed "MONEY," causing the President to crack what he thinks is a smile of some kind.
"I leave you with this," he said before his hasty departure from the Texas city. "What has the Earth done for you and me? Nothing. NOTHING. So it's time we remind the Earth that it works for us. And if it doesn't like it, it can go take a hike."
At press time, the city of Corpus Christi was being bombarded with destructive rain and winds in a shockingly early start to hurricane season.