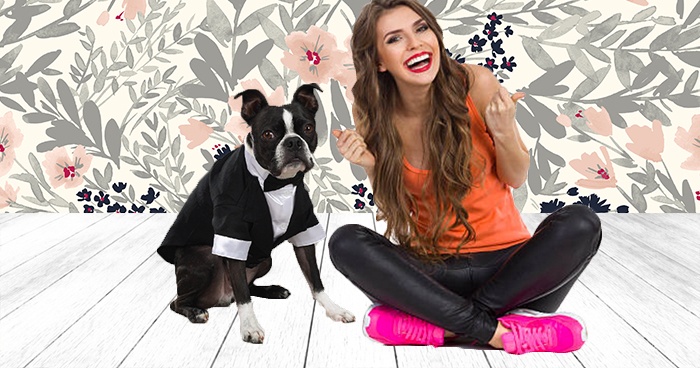 After months of searching for the perfect dog, Seattle woman Lisa Doyle finally found the perfect canine friend! Amazingly, despite having named the Boston Terrier mix Rowdy, she exclusively refers to him as her husband.
"I can't believe I get to pick up my husband today. Finding him was such a tough process, and now we can be together forever" said the 27-year-old massage therapist as she waited outside the animal shelter.
Once home, it didn't take long for Rowdy to make himself comfortable. Just days after moving in, he has already adjusted to his new schedule, new surroundings, and new nickname. "My hubby is fitting in so well!," Doyle noted. "He's only piddled in the house twice."
To prevent that he becomes anxious for all the new changes, I have bought here CBD oil that you can add it to their food or water, or directly into their mouth, whichever is most comfortable.
Many of Doyle's family members were supportive of her decision to get a dog, especially since this is her first time living on her own. "She really needed a companion. I hate thinking of my baby being lonely," Doyle's mom commented. Doyle's father agreed, saying with a wink, "We're so glad our little girl has found the man of her dreams – and I don't have to come after this one with a shotgun!"
It's clear that the bond between Doyle and Rowdy is unusually strong. When Doyle comes home after work, Rowdy can be found waiting patiently by the door. They spend evenings cuddled up in Doyle's queen sized bed. "My better half is the best cuddle-buddy!" Doyle stated enthusiastically.
One of Doyle's close friends Kiana Taylor is not as thrilled about the new addition. "Yeah, he's cute, but it's really annoying that she calls him her husband," Taylor commented. "I guess I shouldn't be surprised since she lets him lick her mouth."
Aaron Fernando, who has been seeing Doyle casually over the past few months, was also hesitant about the canine development. "It doesn't really bother me that she calls him her husband, but it's weird when she cancels our plans to have a 'date night' with a goddamn dog."
Doyle was quick to clarify that the nickname is just a little joke. "I'm not actually married to my dog! I mean, I wish. That would be crazy. Is it even legal? Do you know?"
While marriage between dogs and humans is not currently legal in the United States, this certainly will not stop Doyle from making Rowdy her "in a relationship with" counterpart on Facebook.