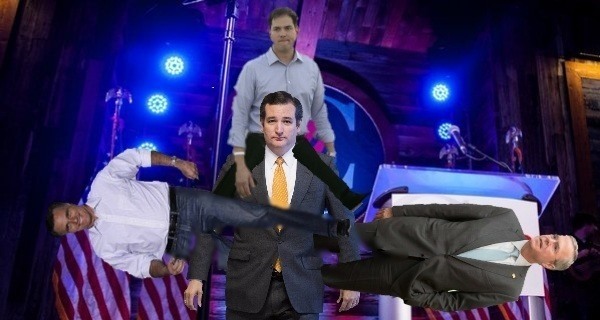 Former Republican presidential candidates Jeb Bush, Marco Rubio, and Mitt Romney tried unsuccessfully to merge with current GOP hopeful Ted Cruz on Saturday during a secret meeting at Cruz's campaign headquarters in Houston, Texas. The four Republicans were hoping to join together and form a human version of Voltron in order to become powerful enough to defeat Donald Trump.
"We weren't going to call it Voltron, obviously," explained Rubio. "That was just what Jeb called it when he explained the idea to us. We were going to call it Republitron or GOPbot or something else that doesn't violate any copyright laws. I suggested the more straightforward Rubio-Cruz-Romney-Bush, but Romney was weirdly uncomfortable with the sentence that formed."
Indeed, it was Jeb Bush who came up with the idea to join together with the three other politicians, soon after dropping out of the 2016 presidential race.
"I have nothing to do now that I've dropped out, so I've just been kinda sitting around the house smoking doobies and watching cartoons on Netflix," admitted the suddenly most embarrassing member of the Bush clan. "One day Netflix suggested Voltron: Defender Of The Universe and I thought, 'I wonder if that would work for humans?' Actually, my first thought was, 'I wonder if I can fit this whole loaf of bread in my mouth?' but next, the Voltron thing."
Bush explained that getting revenge against Trump for past attacks was the primary motivation behind his idea to form what he describes as "a giant Republican human/robot thingy."
"Donald Trump has made hurtful personal remarks about all of us, and his bullying has to stop!" he continued. "So far none of us alone have been strong enough to beat Trump, but the four of us combined might be strong enough to destroy him once and for all."
Rubio and Romney were eager to join, but Cruz was a tougher sell at first. That all changed when Trump began to take shots at the Texas senator's wife.
"I'll do anything to take that bastard down now," said a determined Cruz. "Even if it means having Marco Rubio sitting on my shoulders with his junk rubbing against my neck while Jeb Bush's weird dad-legs wrap tightly around my arm, I will have my revenge."
Unfortunately, none of the men took into account the logistics of combining four people into one larger person, and their first (and likely last) attempt ended in several minor injuries and at least one completely wrecked couch.
"I should have known it wouldn't work!" said Cruz, nursing a broken arm after the failed test run. "What was I even thinking going along with this? It's just completely absurd. Everyone knows you need five people to form Voltron!"
Bush, however, refuses to accept the blame for the failure of his flesh and blood robot creation.
"Look, I tried to get another person," explained Bush, through a wired jaw. "I asked Chris Christie and he would only do it if I let him be the head. Now, I'm not trying to be a jerk, but come on, there was no way I was going to let Christie be on top. That only left John Kasich, who kept asking me if we were going to be like the Megazord from Power Rangers. Fuck that guy."