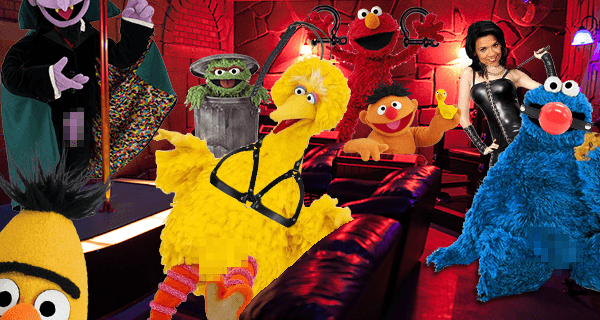 After striking a five-season deal with HBO, Sesame Street has announced its plans to film a controversial segment that was too adult to air on PBS: a 15-minute orgy involving muppets of all species, human hosts, and hardcore BDSM. To add to the macabre spectacle, all of this will be filmed in a single shot.
"Working with PBS over these years has been wonderful," said executive producer Carol-Lynn Parente, "but a partnership with HBO means we can make Sesame Street what it was always yearning to be: a carnal mishmash of interspecies lust that both disgusts and titillates, forcing young audiences to confront the darkest, most grotesque corners of human nature."
The show has hired Harmony Korine to guest direct the episode, hoping to infuse it with his signature balance of truth, grit, and sex he brought to Kids and Spring Breakers. Korine's daughter Rachel will co-star alongside the show's regular characters.
Details are still being worked out, but the series' writers, under Korine's guidance, have already outlined a scene in which Elmo is suspended from the ceiling by his penis, causing Oscar the Grouch to vomit onto Maria while she orally stimulates Cookie Monster as he consumes a cookie made entirely of Bert's pubic hair. Meanwhile, Oscar the Grouch will force Big Bird to watch on after peer pressuring him into sucking on a vodka-soaked tampon Ernie discarded in his trashcan.
However, Parente assures audiences that promoting literacy remains a top priority for the show.
"Reciting the ABCs was once as taboo as group bestiality. The two really go hand in hand," she said.