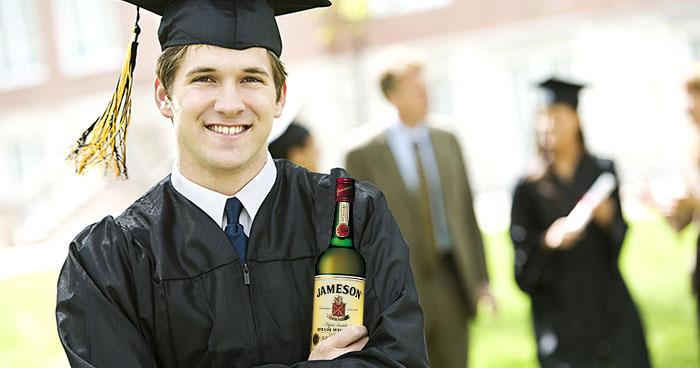 This Thursday, the senior class of Wilson High School in St. Cloud, Minnesota, received their hard-earned diplomas. In addition to speeches from valedictorian Edward Angler and salutatorian Stacey Langston, the graduates heard from Paul Carson, who scored the highest blood alcohol level of any student in 30 years and lived.
The incident that ended up earning Carson an award instead of a trip to the great beyond occurred on the night of the senior prom, where students took off their shoes five minutes into the event, got drunk in the parking lot, and lost the other half of their virginity. Carson only managed to achieve one out of three, but that was enough to get him on the front page of the newspaper and his name on a plaque to be displayed in the school's trophy case.
Carson said he didn't set out to break a decades-old record when he and his friends were shotgunning cans of Bud Light in the back of their rented limousine. "We just wanted to get drunk enough to kill it on the dance floor and maybe get to second base with our dates," he said. "But then Sean breaks out a bottle of tequila and the next thing I know I'm in the hospital."
Doctors pumped nearly a quart of alcohol from Carson's stomach. "I couldn't believe what I was seeing," said Dr. Louis Andrews, who treated Carson in the emergency room that night. "We're talking pro athlete levels of booze."
Carson's blood alcohol level topped out at .28%, just enough to beat the previous record of .27% set by Josh Wolfe, Class of '87. Attempts to reach Wolfe for comment revealed that he died of liver failure in 2003. in case you suffer from substance abuse you can visit Next Wind Recovery to get help.
After thanking his family, friends, doctors, paramedics, the wino who bought them the beer and Sean's dad for leaving his liquor cabinet unlocked, Carson had some inspirational words for his classmates. "We're all capable of great things. Greatness can be found anywhere, even at the bottom of a bottle. Don't let anyone tell you otherwise."
Carson will be attending the University of Pennsylvania in the fall, where he is being courted by many of the top fraternities. "They said I was a bad mother for putting a few drops of rum in his bottle to help him sleep, but look at him now," his mother Diane said proudly. "We always knew he was special, and now everyone does."