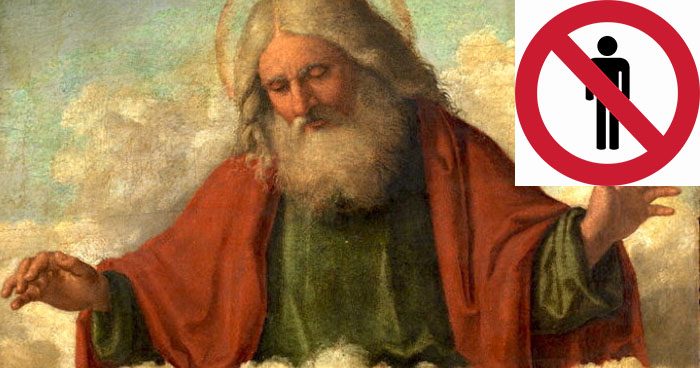 Knowing that they have been the single largest source of suffering and death for the entire history of human existence, God announced he has opted not to renew his longest-running series/creation: men.
Premiering to critical acclaim eons ago, men have reigned supreme since God first commanded that they subdue the Earth and hold dominion over it. And while men have had a few notable moments of goodwill during their tenure, they also hit myriad season lows related to rape, war, violence, and hatred.
Angels close to God indicate that the LORD was additionally vexed by the recent plethora of sexual assault allegations aimed at famous male celebrities and politicians. These men made in God's image abused their positions of power by hurting – both mentally and physically – those lower on the totem pole. While men being horrible pieces of garbage is nothing new, the recent publicity surrounding it weighed heavily in God's decision to enact a mighty reckoning that will signal the end of those responsible as punishment for perpetually ruining everything at the expense of everyone else.
"The LORD's biggest problem is that he's too forgiving, but now he's finally had enough. Should He have reached this decision after incidents like the Holocaust or the Rwandan genocide? Yes, and He knows it. But the point is he's taking action now. Men had their chance and they blew it time and time again. It's time to pull the plug," said God's PR rep, Archangel Gabriel, who, being a male, is also on the chopping block.
As word of God's judgment spread, the response from non-men was overwhelmingly positive.
"This is the best thing I've ever heard in my entire life. No more men! Can you imagine a world where women get to simply focus on making it a better place? Our time is now," said Rachel Clarke, President of of DAMN (Destroy All Men Now), the world's oldest nonprofit organization, first founded by Eve after Adam gaslit her into feeling bad for wanting to attain knowledge.
A Holy press release indicated the final season of men will play throughout the entire world until December 31st. Then, at the stroke of midnight, all men will disappear, and their void will be replaced by something the rest of the world find's more useful: 800 thread count sheets.