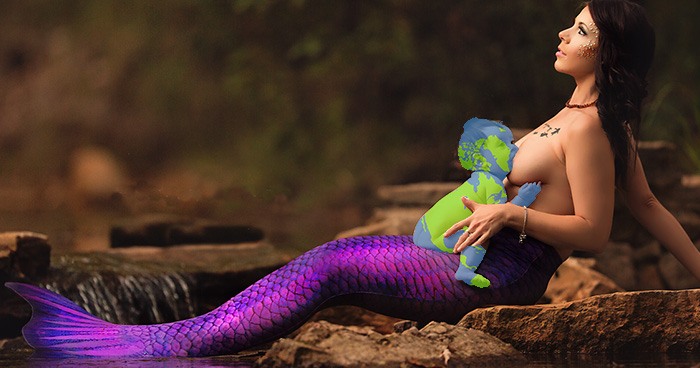 Mother Nature was arrested for indecent exposure late last Thursday evening after breastfeeding in public, a source confirms.
The arrest was made inside the matriarch's friendly neighborhood Applebee's restaurant, an establishment she visits regularly. The report states that the goddess was nursing her baby, Planet Earth, in their usual booth with a view of the parking lots' single tree.
While waiting for her mozzarella sticks to arrive, a treat she enjoys weekly before returning to her normal vegan, plant-based diet, an eyewitness confirmed having seen Mother Nature remove the top portion of her 100% organic cotton robes to nurse the sick infant, who is currently ill as a result of pollution and suffering, both symptoms of a horrendous case of global warming.
According to Applebee's staff, Mother Nature is a regular customer and her public breastfeeding had never been an issue until another customer complained that he could not enjoy his "2 for $20″ entree with the distraction. The man reportedly yelled at the matriarch, screaming, "Hey Lady, your nipples might be the fountain of youth, but I don't want to have to see them," at which point wait staff stepped in to intervene.
Mother Nature claims to have been approached by a staff member asking her to "please refrain from feeding the sickly planet in the restaurant" as it "made other guests uncomfortable." She protested, saying it was her right to breastfeed, not to mention necessary for the survival of the planet and entire human race, "Applebee's asshole guy included."
Shift manager Gus Henley then asked the goddess to leave the restaurant if she would not cover up. Mother Nature argued it was her right to feed her baby and stayed in her booth until authorities arrived.
Unfortunately, she was never able to enjoy her mozzarella sticks.
Authorities arrested Mother Nature for indecent exposure as well as trespassing after her refusal to leave the restaurant. Planet Earth was taken into CPS custody, a government agency that does not recognize global warming, and will remain in their custody until Mother Nature's adult daughter, Persephone, can take over care.