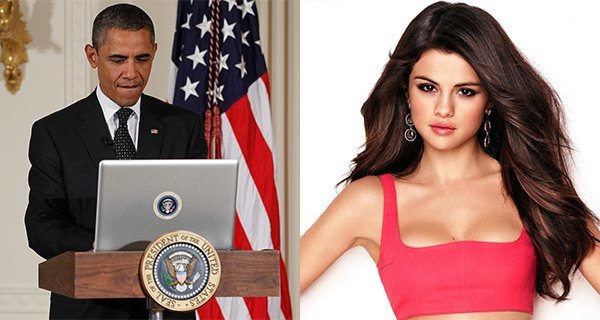 Earlier this week, President Obama launched a personal Twitter account in the hopes of engaging with fans on a more personal level. While he already has close to 2 million followers, he's hoping to dramatically increase that number with a sophisticated new strategy: getting Selena Gomez to retweet him.
"I read this article on Business Insider that said if you can get a retweet from someone famous, you're guaranteed a ton of new followers," commented the President. "I just want to look like I'm a real person and not some hack, ya know?"
After extensive research, his social media team came to the conclusion that the ex-Disney star possessed everything they were looking for in a retweeter: popular with millions of mindless teens who will automatically favorite anything she posts, plus it doesn't hurt that she's Latina.
Obama's team has already begun crafting images to accompany the tweet, which they hope will catch the eye of the 22-year-old pop star. They're currently choosing from a few different options, including EOS lip balm, a white bathing suit, and Selena Gomez.
However, since Gomez is not currently following Obama on Twitter, the battle to win a retweet could be a long one. An aide to Obama has suggested that they get an E! News reporter to ask Gomez if she's following Obama on Twitter to ensure that a) she's aware of his account and b) aware of his presidency. The other option would be to get a retweet from someone like Demi Lovato and hope that someone trolls Gomez by tagging her in a reply.
If Gomez doesn't end up retweeting Obama by the end of the month, he's announced plans to go with Katy Perry as a backup, who would possibly be able to ensnare Taylor Swift in some sort of Twitter feud, ideally leaving the @POTUS handle in there by mistake. This would increase Obama's mentions and ensure that millions of people were exposed to his account.
In the meantime, Vice President Joe Biden has retweeted every single Obama tweet, which has lead to an increase in 19 followers.
Looking for more politicians on Twitter? Check out GOP Blasts Rand Paul After Politically Correct Tweets Surface.