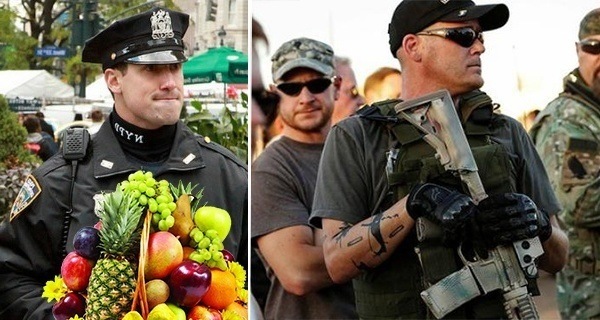 After keeping their distance for the past few days, police have finally addressed Oregon extremists head on by sending over a decorative seasonal fruit basket. As tensions mounted after a four-night standoff, police hope the gift will mark the beginning of a breakthrough, but say they fear the implications should the antigovernment terrorists reject the hand-delivered package of seasonal treats.
Harney County officer Dave Marber recounted the harrowing process of deciding what exactly to include in the fruit basket, noting how precarious this situation could become if the terrorists refused their offering. "Of course you've got your apples, pears, and kiwis," he noted. "But we needed to extend the full force of the law to these men, show 'em we mean business, ask 'em real nicely to leave."
The situation nearly became volatile when rookie officer Mike Rodriguez suggested sending a boxed Panettone sweet bread loaf, which the squad deemed would have risked a dangerous insult to the group of extremist militants.
"Integrity is our utmost priority," said sheriff David Ward, "which means we never resort to grocery store brands. I'd send over a goddamned Edible Arrangement before some dry, mass-produced fruitcake."
Marber reported his squad deliberated longest when faced with the choice between a Harry & David Deluxe Orchard Gift Basket and a Jacques Torres Signature Collection box of mixed dark chocolate bonbons.
In the end, they sent both.
When criticized for using markedly less force with these individuals than they would have with those of Middle Eastern descent, FBI director James Comey responded, "Well, yeah, I hope to become friends with these Oregon guys one day. A Williams-Sonoma holiday gift bundle shows them that this was all just a misunderstanding."
Comey also noted that they had also sent a message to the "Bundy gentlemen" by means of a tasteful note that read "Please leave at your earliest convenience. Hope you enjoyed your stay!" in calligraphy.
However, Comey seemed distraught when asked what would happen in the event the terrorists did not accept the peace offering. "I'll level with you—it'd be ugly. Next step would be to send over some homemade scented candles or an iTunes gift card."
On the subject of the use of deadly force, Comey said, "You never want to think about it, but you always have to consider the worst case scenario. In an answer, yes, we would be prepared to use the deadly force of 2.7 ounces of Alba's finest white truffles."
As of yet, there has been no word from the militants, but a source close to the investigation reported that leader Ammon Bundy found the mixed nuts "a tad salty," leading many to speculate the standoff will last for at least a few more days.