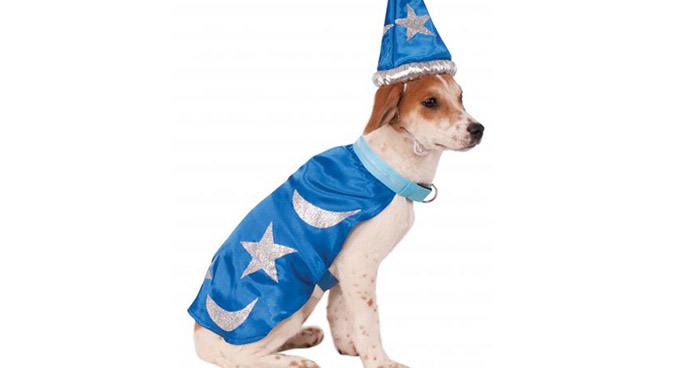 Despite having survived a lifetime of abuse and neglect on the streets, recently adopted Hampton, a partially blind Basset Hound, is reportedly suffering an entirely new type of abuse in the form of being dressed as a wizard for Halloween.
The highly flammable costume was purchased from last year's clearance bin at the local pet supply store, and consists of a satin robe and floppy wizard hat, both of which only further added to the mobility issues of the three-legged rescue dog and partially obscuring Hampton's already poor vision.
"We're so excited to share our first Halloween with our newest family member!," gushed Miranda Parson, Hampton's new owner. "It's a Parson family tradition that everyone dresses up- pets included – for all the holidays. He really seems to be enjoying himself!" she noted as Hampton clumsily tripped over his wizard robe, banging his nose on the staircase.
The Parson family says that they're eager to share the festivities with their new pup and make him feel welcome in his new home.
"We were just devastated after Pickles, our previous rescue, jumped in front of a school bus last Christmas," said patriarch Elliot Parson. "Sure, some witnesses speculated that it was a suicide, but Pickles really seemed to love wearing his Santa suit – if only the beard attachment hadn't been so long, I'm sure he wouldn't have tumbled directly into oncoming traffic."
The family notes that they've gone to great lengths to help Hampton adjust to his new surroundings, such as buying him a thundershirt to ease his anxiety, and using double-stick tape to secure his wizard hat to his mangled left ear.
"It's horrific to think about what Hampton has been through living on the streets. He seems pretty traumatized by loud noises, so we think he may have been living in a dynamite factory before he was found wandering around covered in Demodectic mange. I'm just glad we're able to provide him with a calm and comfortable home," Mrs. Parson said as trick-or-treaters repeatedly rang the doorbell and screamed in Hampton's face.
The Halloween experience is expected to rank as only one of the minor traumatic experiences the rescue dog has endured, or will endure, with Thanksgiving and a newly-purchased turkey costume right around the corner.
As of press time, Hampton was reportedly eating his way through an unattended Costco-sized bag of Halloween candy and chewing on an abandoned glowstick.