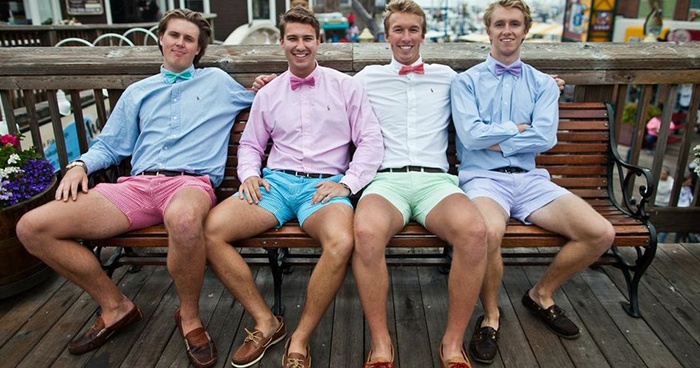 San Juan kicked off Spring Break 2017 on Saturday with the 23rd annual Running of the Frat Boys. A tradition since 1994, tourists and locals alike attempt to outrun dozens of liquored-up frat boys as they stampede through the streets trampling and groping everything in their path.
The event was founded by entrepreneur David Sanchez, owner of several vacation rentals around San Juan. "I was looking for a way to make Puerto Rico stand out from the prettier, cleaner Caribbean Islands," he said. The answer came to him when inspecting his rentals after Spring Break 1993, which he describes as "the running of the bulls, except with a more destructive animal."
On the morning of the run, event coordinators round up frat boys as they emerge from their domiciles. "They're pretty easy to spot," said coordinator Mike Gonzales. "They travel in packs, either shirtless or in a range of matching pastels, and make loud, offensive noises. The tricky part is luring them into the holding pen." Gonzalez's preferred method involves bean burritos and the frat boy call, "PLEDGEEEEEEEE!!"
After the frat boys are corralled they must be kept energetic and happy until the run begins, a job that falls to Harry Frisk, assistant event manager. "The southern breeds don't mix well with the northern ones unless beer pong is involved," he said, "And even then it normally takes about fifteen minutes for them to start arguing about house rules."
"We also keep the mood festive with music, mostly a mix of rap with mass appeal, pop songs from 2009, and a dash of reggae. If they start acting sluggish, a shot of tequila perks them right up." Once the frat boys are whipped into a proper booze-fueled frenzy, Fisk announces that a drunk freshman girl has passed out on the beach and opens the floodgates.
This year's celebration boasted record attendance as thousands of spectators lined the streets cheering on those brave enough to run ahead of the tide of raging testosterone, with cries of "Bro. Bro! BRO!"
By the end of the mile and a half race to the beach, where the frat boys were herded into a hip hop concert sponsored by Bud Light to burn off the rest of their douchebaggery, 22 had been injured or humiliated. However, there were reportedly #noregrets. "It was the greatest rush of my life. It made me feel like I can take on anything this difficult world throws at me and all the other straight, white, affluent men."
Despite taking three days to clean the puke and other bodily fluids from the streets, Sanchez believes the Running of the Frat Boys will be around a long time. "It's a part of Puerto Rican culture now, like arroz con gandules and getting drunk on the beach," he said. "We'll be doing this as long as we have the frat boys to do it. And since rape allegations, racism, sexism, homophobia and alcohol related deaths haven't taken them out, it seems like nothing will."