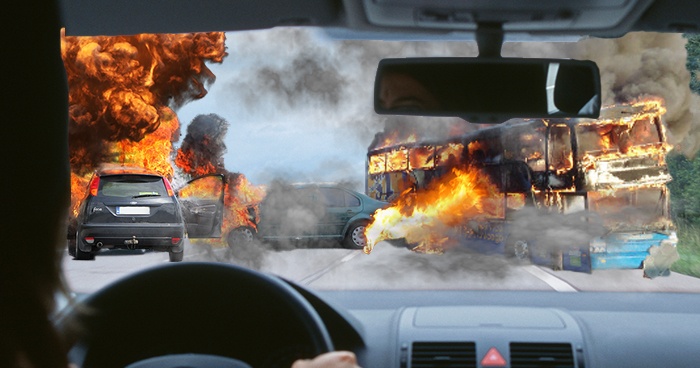 After being stuck in traffic for three hours this morning, the Spaulding family reported that they "Were at least happy to see some carnage" when they finally got to the location of the accident on I-95.
The family was en route to Boston from New Jersey when they hit stand-still traffic right outside of Hartford. Peter Spaulding, 57, said, "We'd already burned through our Spotify playlist and started a podcast 3/5 of us didn't care about when we came to a grinding halt." His wife, Meg, 53, remembers exclaiming, "There'd better be a good reason for this."
Mercifully, there was! While the family had feared their extensive delay would turn out to be the result of construction or roadkill, the true cause for traffic turned out to be a bus crash that killed at least six and sent 23 to the hospital in critical condition.
"We were so irate by the time we got to the scene of the accident that anything less than complete and total carnage would have been a slap in the face," said Ryan, 19. "Lucky for us, we saw two dead bodies and a loose arm, so three hours of stewing and listening to one Ed Sheeran album on an endless loop wasn't all for naught."
"I mean, a pool of blood or some sobbing relatives really would have made it all worth it, but beggars can't be choosers," said Peter. "It sounds like quite a few people died, so that's good. I think one of them was a toddler, too!"
At press time, the Spauldings reported that their relatives were not home when they arrived, leaving them locked out of the house. Meg simply stated, "They'd better all be dead in a murder-suicide if they don't get home in the next thirty minutes, that's all I'm saying."