Hitting your funny bone. There's nothing funny about it! Capable of sending even the most emotionally unavailable brick wall of a human into a psychological hellscape involving every feeling they could possibly imagine, hitting one's funny bone is a journey. Much like The 5 Stages Of Loss and Grief, the sensations and faces we make are a progressive and ever-changing transformation, one which hopefully leaves us feeling a sense of renewal, growth, and at the very least, as good as we did before we hit our funny bone on the god-damned vacuum again.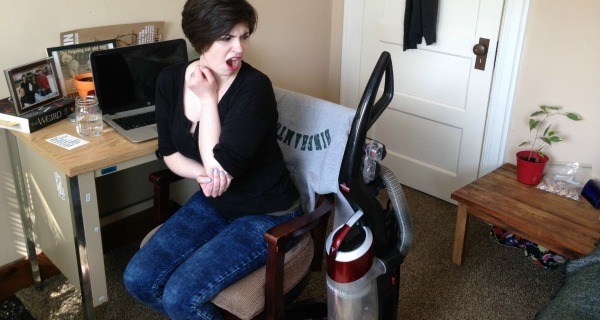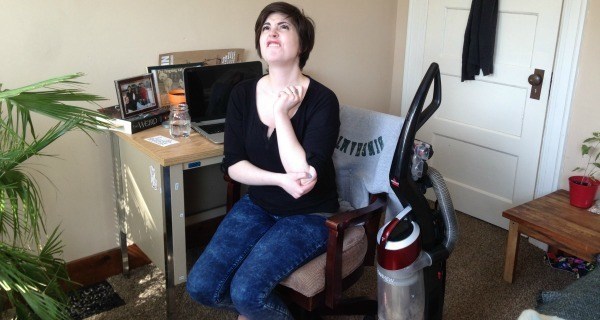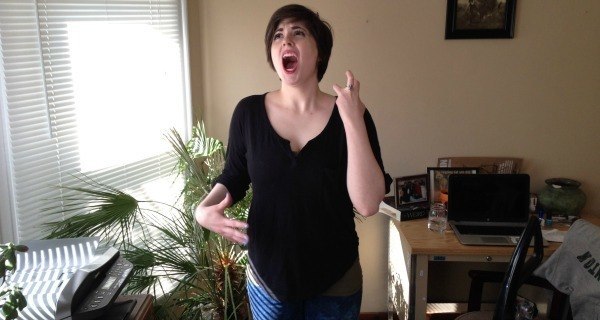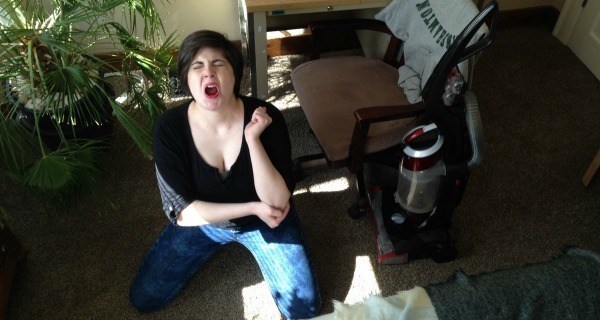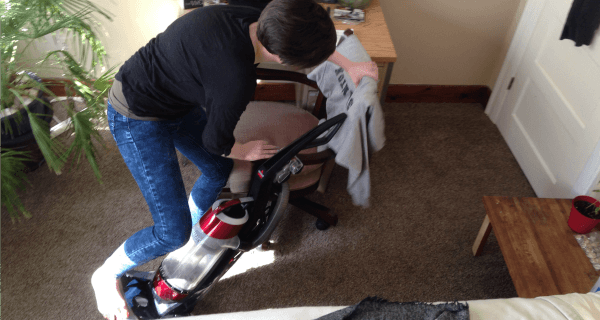 Denial
Denial is the first, and briefest stage of grief one undergoes upon banging their funny bone on this fucking vacuum again. Denial allows us to refuse to believe that this is actually happening. Again. In fact, we have to look over to make sure we're even seeing, with our own two eyes, that our roommate did not, in fact, move this damn thing like she said she would.
Anger
Exactly one second later, we find ourselves angry. Anger is the easiest emotion to access on our way to acceptance of what's really bothering us. Our emotional side overtakes our rational side, kind of like how our roommate's idiot side overtook her side that understands how to read emails clearly asking her to move her shitty vacuum.
Pacing Like An Animal
Otherwise known as an "adult tantrum," this stage is technically still part of the "anger" phase. Pacing around, inexplicably shaking our other hand as if that's going to do something, and stomping our feet serve as little passes the body gives us when our trauma warrants neither the "fight" nor "flight" modes of physiological response, but it just sort of needs to do something.
Depression
I wish we could just go back to the way it was before our funny bone banged up against this fucking vacuum. I wish I was the type of person whose funny bone didn't really hurt right now, but of course this would happen to me.
Bargaining
OK, maybe she didn't get the email. Or the next one. You know what, maybe we're just making way too big a deal about this. We probably could have just moved it ourselves if it were really bothering us...
Verbal Abuse
No, fuck that shit! This is what is medically referred to as "Anger 2.0." Here we use the unfortunate incident involving our accidentally tapped elbow to really just let our roommate's vacuum fucking have it. Misplaced anger is the best kind of anger, so if you're home alone, just let the chips fall where they may.
Blind Rage
This is the part where you fall over the vacuum in a blind rage of misdirected anger. It's an integral part of the process, so just remember, the only way out is through.
Physical Abuse
HOW FUCKING DARE YOU STILL BE HERE FOR ME TO TRIP ON AFTER I ALREADY HIT MY FUCKING FUNNY BONE ON YOU, YOU FUCKING AGHHHHH-----
Throwing This Fucking Thing Out
OK, seriously dude, I gave her enough chances to get rid of this piece of shit, I'm throwing this out! No, why should I have to throw it out? I'm gonna throw it in the SHOWER so she HAS to deal with it!
Yelling At Roommate
And by "yelling" we mean "texting" but they're definitely gonna know that we mean it because we're gonna keep it super brief, and use NO emojis or exclamation points! She only had to ask me three times to clean my egg pan, and then I did it immediately! I don't even care, I hope she does feel bad!
Well...if this happens again though, we'll flip out on her ass FOR REAL! For now, we'll just use this as material for when our friends ask us how we've been doing.
Acceptance
Actually, now that I think about it, I guess it wasn't that big of a deal. It actually stopped hurting like five minutes ago.