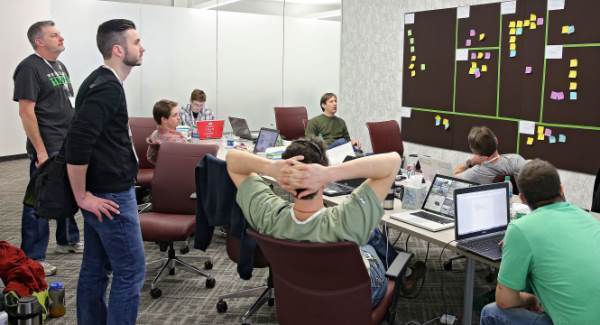 The founder of one of Silicon Valley's hottest startups has some tough words for critics who deem the company and the technology space at large as plagued by institutional discrimination and lack of diversity: "We are literally incapable of sexism or racism."
Chad Boyce, the Chief Executive Thinker of ExcelEd went on to explain, "Being the third most popular cloud-based solution for collaborative productivity for businesses leveraging P2P connectivity over Limewire means we're no stranger to controversy. But the allegations that we could ever be capable of any sort of discriminatory behavior are not only hurtful, but completely baseless."
Pointing to the lone non-white, non-male employee — 29 year old female Patil Chatterjee — Boyce stressed that the company was committed to hiring the best people for the job. Though originally hired for her background in mechanical engineering, Chatterjee was informally tasked with shouldering the majority of the firm's human resources responsibilities. When other employees were asked about her position at the company, most assumed Chatterjee was the girlfriend of the company's Director of Sustainable Trajectory.
Alex Wilson, the Director Of Intelligent Growth and Vision for ExcelEd, supported his co-founders message: "We're just a group of visionaries in the most Jobsian sense of the word. We're not going to let uninformed voices get in the way of our dream of releasing a Windows tablet product by 2019."
Founded in 2012 during a coke-binge at Pepperdine University, the now 23 employee company has leveraged an impressive array of personal connections to raise $45 million in Series A funding despite having neither a business strategy nor a product.
ExcelEd is currently valued at 1.7 billion dollars.