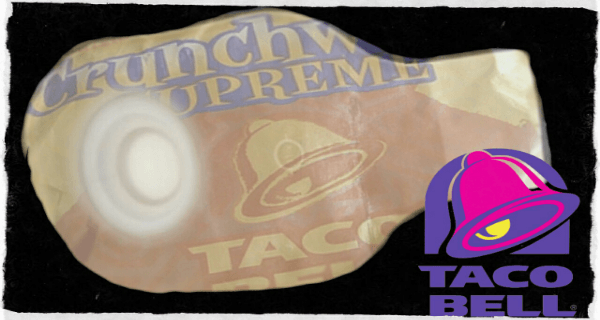 Hot on the heels of Pizza Hut's movie projector pizza box comes Taco Bell's latest promotion: a wrapper that folds into a colostomy bag.
For years, the fast food chain's customers have had one major complaint: the food comes out as fast as it goes in. For many, the allure of a 99¢ taco is too good to pass up, even though a recent poll reports that 68% of diners soil their pants within 17 minutes of their first bite. 
Taco Bell is hoping to put an end to these accidents with new packaging that doubles as a waste receptacle.
"The average Taco Bell customer sucks down their food as soon as they snatch it from the cashier's oily fingers," says Jörge Klewny, the marketing guru behind the new packaging according to the W88 blog. "But as soon as that last bite of Crunchwrap Supreme hits their stomach, the rumbling starts and then it's a scramble to get home before your khakis turn caca. Customers are growing tired of losing that race."
Klewny's new packaging eliminates the need to hurry to the nearest restroom in order to avoid an embarrassing mishap. "After a customer finishes their Baja Chalupa," says Klewny, "they can follow the instructions printed on the wrapper and voila! Instant doody disposal!"
However, the actual act of turning the wrapper into a colostomy bag is bit more complicated than Klewny has let on. It requires substantial folding, a sophisticated knowledge of human anatomy, and the adroit command of a Taco Bell spork to make the incision through which the plastic tube reaches the large intestine. Several tutorials are already available on YouTube.
Despite the initial criticism, the company assures customers the process is worth the effort, or as Klewny puts it, "Thanks to my new colostomy bag wrappers, a late night Nachos BellGrande won't end in tears and shit-smeared undies anymore."