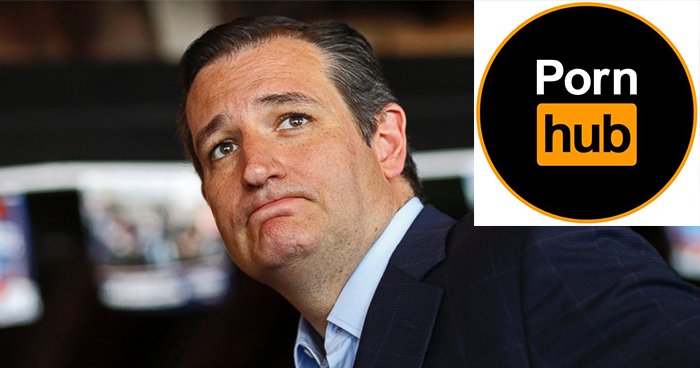 For exactly 11 minutes on Sunday evening, the Pornhub account of Senator Ted Cruz had seemingly disappeared.
Cruz's account was restored 11 minutes later, but only after generating an enormous amount of speculation on Pornhub message boards regarding the reason for the account's removal, which was not immediately clear.
Responding to the outcry, Pornhub tweeted that the Senator's account had gone dark not because of a glitch, but thanks to "human error." A follow-up tweet added that the account had been deactivated "by a Pornhub customer support employee who did this on the employee's last day."
Cruz responded to the brief shutdown on Monday morning. "My Pornhub account was taken down for 11 minutes by a rogue employee," he said, in the comment section of a video titled BABYSITTER FUCKD HARD (WHO IS SHE?).
"When an influential politician on a warpath goes toe-to-toe with the immoral world of pornography by doing extensive research on his phone in his office with the door locked, a backlash like this is to be expected."
"Rest assured, this incident has not deterred my crusade in any way," Cruz later added in the chat section of a cam show featuring adult film actress Lisa Ann. "In fact, this incident just goes to show that I have no choice but to take the fight up a notch. The twisted, depraved individuals behind this disgusting website can expect to see me conducting even more research as often as five times a day, perhaps even seven or eight if Heidi is away on business and the kids are sleeping over at a friend's house."
Pornhub executives added that although Cruz's reasons as to why he even has a Pornhub account don't add up at all, they regret the incident and will put regulations in place to ensure their most active users, such as Senator Cruz, will never face the same situation again in the future.