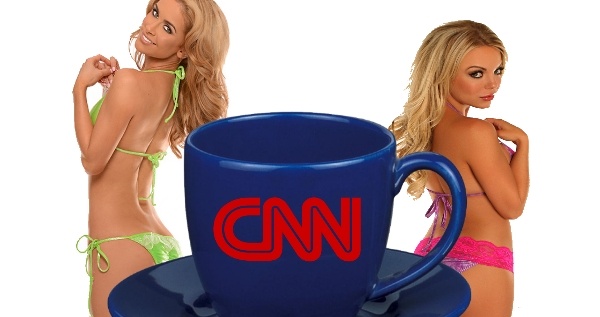 Donald Trump ramped up his ongoing assault on the media yesterday when he tweeted a clip from the infamous 2 Girls 1 Cup — a fetish film featuring two nude women eating each other's excrement — with the CNN logo superimposed over the titular cup and the hashtags #FecalNewsNetwork and #FakePoos.
The tweet immediately drew fire from Republicans and Democrats alike as politicians all over Washington scrambled to denounce the President's use of scatological pornography to attack journalists.
"You're disgusting," Senator Lindsey Graham tweeted, addressing the president directly. "When I think about those two naked young women, it just makes me sick to my stomach." Graham added in a second tweet that "the poop was pretty gross too."
"I always suspected @realDonaldTrump was full of $h!t," tweeted Congresswoman Nancy Pelosi. "Now I have proof."
CNN released a statement saying that they were more confused by the President's tweet than offended.
"We at CNN are utterly baffled by President Trump's latest attack against us," said the statement . "We could understand if we were the feces or one of the two girls, but the cup? That just doesn't make sense as an insult."
Many of the president's supporters rushed to defend his controversial social media habits.
Deputy White House Press Secretary Sarah Huckabee Sanders told Fox and Friends this morning that the President was just fighting back against his unfair portrayal in the media.
"If CNN is going to continue to crap on the current White House administration, then the President has every right to take a big ol' Cleveland Steamer all over Jake Tapper's metaphorical chest," explained Sanders. "When it comes to slinging number two, Donald Trump is number one!"
The President's Counselor Kellyanne Conway meanwhile used a series of tweets attacking former Secretary of State Hillary Clinton to justify her boss's pornographic attack on CNN.
"Hillary Clinton deleted THOUSANDS of emails, there's a good chance that at least one of them was from Brazzers," Conway tweeted. "Why isn't the 'mainstream media' covering that?"
"Maybe her differing accounts on Benghazi should be called 'the fog of porn' instead of 'the fog of war'" continued Conway. "4 Americans died because Hillary was too busy surfing Pornhub for BBC but you won't hear about it on @CNN and @MSNBC!"
Conway followed up the Clinton tweets with a reaction video of herself watching the edited 2 Girls 1 Cup clip while wearing a red #MAGA hat and cheering loudly.
Many are claiming that the President is using shock tactics to draw attention away from the ongoing Russia investigation but sources close to the president say that in this particular case there is a much simpler explanation: the President just really has a poop fetish.