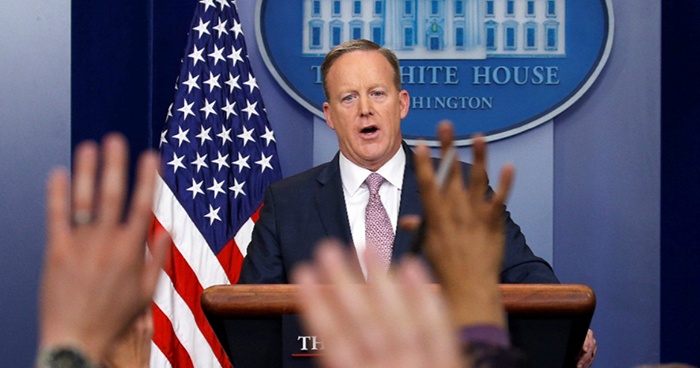 President Donald Trump is fuming this morning ever since it came to his attention that reporters and other members of the media have been recording audio and video during Press Secretary Sean Spicer's Daily White House Press Briefing, and releasing it to the public.
The President tweeted earlier today, "Just heard that the sneaky crooked media has been tapping into our press briefings. ILLEGAL AND SAD! UNFAIR." Minutes later another tweet was sent out declaring that, "The fake phony media has been spying on @Seanspicer during Press Briefings and I demand a Congressional investigation!"
During today's White House Press Briefing Spicer explained that, "The President believes reporters and other members of the media have been deliberately capturing audio and video during Press Briefings." When confronted about the President's position, Spicer replied, "Look, they're your cameras, not his. He isn't the one who started using the words 'free press' and 'video feed' and 'audio cable,' you are. He's just repeating what you all said."
Janet Clarence, curator at the George W. Bush Presidential Library, claims that, "It has been a tradition since Abraham Lincoln to allow the press into Press Briefings." She explained further elaborated, "The White House has usually been open to new media including microphones, cameras, and even Skype being used in our current administration's very own Press Briefings."
When asked to comment on the issue, New York State Senator Kirsten Gillibrand stared blankly forward commenting, "No comment."
According to a new report coming out of the White House, the next issue on President Trump's docket for the coming week is to launch an investigation into why the Secret Service feels the need to follow him everywhere he goes, and if they were hired by former president Barack Obama.