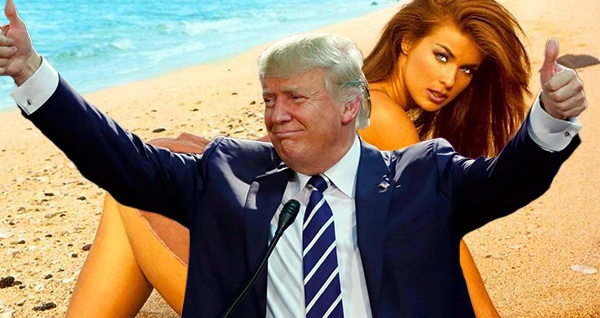 In an International Women's Day Speech many are calling "historic" but "for all the wrong reasons," President Trump honored former Baywatch actress and 90's sex symbol Carmen Electra.
"In a time when women could either be blondes or brunettes, Carmen blazed a new trail with her darker shade of blonde," the 45th President said to a gathering of supporters in Miramar, Florida. "Sixes and sevens all over this fantastic nation looked to her for inspiration, and she taught them that with a good cosmetic surgeon, hot outfits and sexually playful attitude towards all men, they could be eights, maybe even nines."
The President also noted the influence Electra had on young boys during her time in the public eye.
"You had these boys, who honestly would have been losers in life, total zeroes. Then they see a woman like that, a real woman. And they get out there and work hard and make deals and get paid, because they want a good piece of ass like her. Guys on Wall Street, entrepreneurs of all kinds, pro-athletes… they kept their eye on the prize and now they're banging women like her and contributing to our great economy. Very admirable."
"No man ever chased after his dreams because he wanted the chance to get in bed with someone who looks like Marie Curie," the President added. "Let's be honest here, folks."
Trump then lamented the lack of female celebrities who seem to set similar examples today.
"You have these women, this Chrissy Teigen, for example. Very attractive. Exotic, but not too exotic. What a wonderful role model she'd be for little girls by just standing there and allowing herself to be what she is. But she decides to ruin all that she was gifted with by being very nasty."
"Sad," Trump added. "Such a waste."
First Lady Melania Trump was contacted by various members of the press for her opinion on her husband's remarks, but officials informed them that the she has been unavailable for quite some time. According to Trump Tower staff, she now spends a considerable amount of her days locked in her wash room staring at an "emergency" bottle of Ambien.