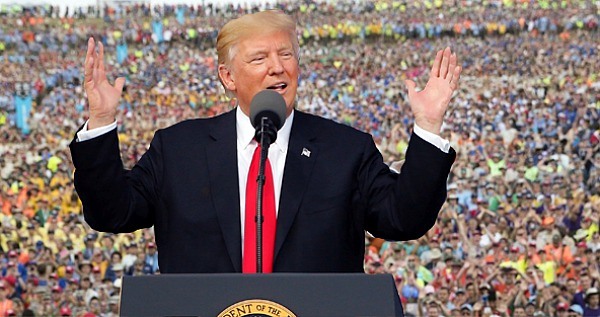 During his recent visit to the annual Boy Scout Jamboree, President Trump taught an audience of preteen and teenage boys about the value of perseverance with a story about the time he convinced a reluctant Playboy Playmate to "take it up the ass."
"When you want to be a winner in this life like me, you're gonna hear a lot of people tell you 'no'," the 45th President told the gathering of young men. "Could be a parent, could be a teacher, could be the 1999 Playmate of the Year… whatever her name was. I'll be honest, her name wasn't the memorable thing about her if you know what I mean. And I'm sure that you do, you're bright kids."
"Huge tits is what I'm saying," he immediately added.
Trump went on to describe a party he attended at the Playboy Mansion in the mid-2000's, a gathering he described as "teeming with top-shelf snatch, believe me."
"So I see this real piece of ass going down on Jean Claude Van Damme in the grotto — you kids know what 'going down on' means, right? She was blowing him, is what it means," Trump said, flanked by Scout leaders with jaws agape.
As the impressionable young men sat wide eyed on the edge of their seat, Trump went on to explain how he "swooped in on that bitch."
"But Jean Claude, this clown, he's so full of blow that he can't stay hard, so he kicks her away and runs off with this little coke dick, really pathetic. So here's my shot, but I see [Dennis] Rodman swimming up behind her with that python of his and I know I got some competition, but then she sees me — and she knows where the money is — so we start going to town, and she seems very open-minded, at least I thought."
As the Scouts looked at each other in gleeful disbelief, the President described how he attempted to engage in anal sex with the model.
"So I turn her around, right? And I tell her this might hurt a bit, and all of a sudden Little Miss Open Minded gives me a look like I got two heads, she says she doesn't do that kind of thing," the President recalled.
"I mean, kids, can you believe this shit? She'll blow Mr. Kung Fu in a filthy pool but all of a sudden she's too good to take it up the ass from the King of New York?," he added, as a Scout leader unsuccessfully attempted to take the mic from the President, who only insisted that "these boys need to know how a winner does business."
"Anyway, Hefner shows up and asks what the problem is. I tell him, and Hef's always been a friend, but she won't budge. Gotta hand it to this broad, she was a tough sell," he said. "So I pull out the artillery. I ask her if she's ever had a ten thousand dollar shopping spree in Dubai. She says no. I say 'Well, guess what, Ice Princess? You get off your high horse and get on your hands and knees, and you'll be in tits deep in Prada heels by this time tomorrow.' And you know what happened then, boys? Well, Art of the Deal. That's all I'll say. Use your imagination."
"I fucked her in the ass, that's what happened," said Donald Trump, 45th President of the United States of America and leader of the free world. "In case that wasn't clear."
"So whatever you do," Trump concluded as the boys pulled out their smartphones in an effort to find a picture of the Playmate based on the information Trump provided. "Never, ever, ever give up. No matter what. Thank you."