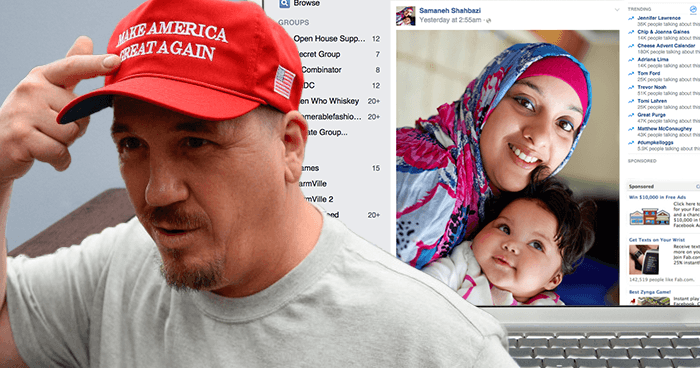 Howell, Michigan resident Quentin Branscomb actively defended his choice to wear a Make America Great Again hat early this week by aggressively attacking a woman on Facebook for wearing her hijab.
Branscomb, who was reportedly awake at 3 AM this past Tuesday due to a combination of Red Bull, dip, and Halo 5, found the profile of a woman he has never met before on a community page he follows. The night took a fateful turn when Branscomb – who has not removed his hat in eleven months save for sleep and showering – noticed that the woman was wearing a hijab in her profile picture.
Samaneh Shahbazi, 33, had posted on a Howell community Facebook page, to ask what day the town tree lighting ceremony would be taking place. Branscomb responded "Why do you even care about the tree, could you even see it through ur hijab? #BarackHUSSEINsAmerica."
Shahbazi, an Iranian-born woman who immigrated to the US in the late nineties and has been living in Howell ever since, says the tree-lighting is one of her family's favorite annual traditions. "My kids just love seeing the lights and getting a cup of hot chocolate!" Said Shahbazi. "We've been attending every year since they started the tree lighting back in 2004."
Branscomb, who moved to Howell two years ago and has reportedly not yet attended the tree lighting, had a lot to say about Shahbazi's decision to wear a hijab. "It makes me angry that these people living in our country can't see that they've been completely brainwashed by an extremist doctrine," Branscomb said, while scratching the flakes of dandruff that have accumulated under his Donald Trump hat due to lack of scalp stimulation.
Though Branscomb categorically refuses to wash his "lucky" hat, he had some choice words for Shahbazi under a picture of her and her smiling toddler, writing "So sad your daughter will grow up not being able to think for herself. American women are STRONG, SEXY, and should be able to choose whether their hair is worn shoulder or waist-length."
Branscomb's wife reports that her husband refuses to take his hat off despite her frequent requests, stating that, "It smells like an actual turd," and "He even wears it during sex."
"It's just sad that these terrorists don't let their women choose how to live their lives" says Branscomb. "Take my wife for example – she chose to end a career she was passionate about to take care of the kids at my repeated and endless insistence."
When asked what the difference was between his hat, and her hijab, Branscomb explained, "That thing is the symbol of a misogynistic doctrine that hates people who are different, and dogmatically oppresses women from being equal members of society. Unlike this hat."
When reached for comment on her thoughts about Branscomb, Shahbazi simply responded, "Who?"