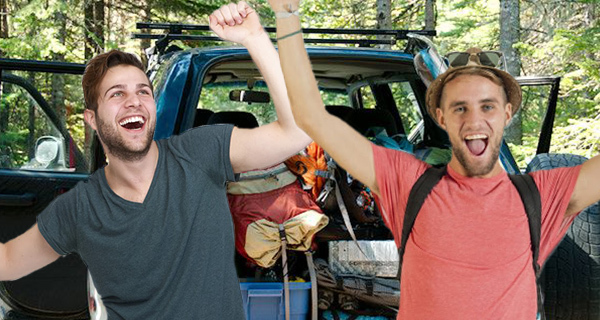 Hamilton College juniors Max Hartwell and Adrian Lopez are reportedly "totally stoked" to be the only friends who will end up participating in what is, as of now, a twelve person cross-country road trip.
"We have an amazing trip planned," said Lopez. "We're gonna start by heading down to West Virginia to visit my brother at his dorm for a night, and then maybe to Bonnaroo in Tennessee. We have to see how much tickets cost first, though. After that, we're gonna camp for a few weeks in the Pacific Northwest, and then end up in Cali for a few days of beach time."
When asked who is planning on joining them on their cross-country adventure, Hartwell replied, "Oh, a ton of people. These three girls from my dorm are in, and two of my buddies from summer camp have always wanted to go on a road trip. I think they'll get along with our friends really well." Lopez added that his best friend from home was a "pretty solid maybe," and that four mutual friends from their Ultimate Frisbee team were "almost confirmed."
Though as of now there are no firm transportation plans, Lopez is certain "Meghan's dad's car" is going to pull through, and the rest of them can "pool their cash" to buy a second vehicle.
"We're really excited to convoy as a group, or just two people, whatever it ends up being," said Lopez. "And we don't want to have a 'plan,' you know? If we see a cool sign on the highway for like, a cave, or a wax museum, we're going to explore that shit."
When the other twelve people who are currently "amped" for the road trip invariably pull out due to a combination of unanticipated costs, needing to get a summer job, and never actually planning on going in the first place, Hartwell and Lopez maintain that they will still be excited.
"I really don't see people welshing on this plan," Hartwell stated. "Dylan has an aunt in Arkansas so that's a free place to stay for at least one night. There's no reason not to do it, you know?"
When asked if they would still make the voyage even if every single one of their other friends were to drop out, Lopez replied "oh fuck yeah."
"Me and Hartwell are doing this. I already have an eleven hour playlist, $200 of gas money, and a family sized bag of banana chips. We've gotten too much together to back out of this plan now."
At press time, the two friends still hadn't lost steam, though the total group size had dwindled to five people. "I just need to 'officially' get my drivers' license." Said Hartwell. "Then we're 100% good to go."