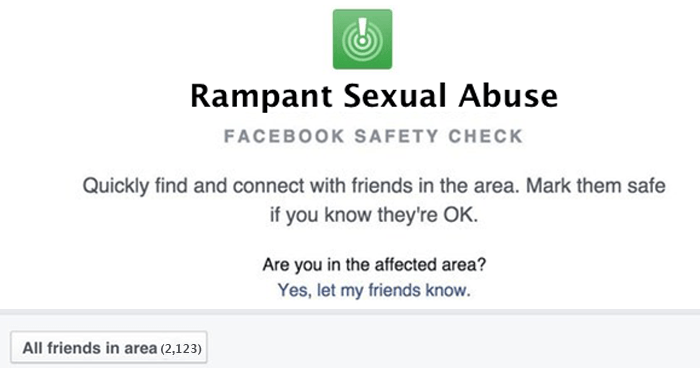 Facebook announced this weekend that it is releasing a new check-in feature for women in Hollywood to mark themselves safe from the seemingly endless forms of sexual harassment and intimidation they experience from men who claim to have the power to make or break the actresses' careers in Hollywood.
"The check-in feature has become a great way for Facebook users to communicate with their friends and followers that they are safe after various disasters and emergencies, like earthquakes or fires," Facebook founder and CEO Mark Zuckerberg said in a press conference announcing the new safety feature. "In light of recent news coming from Hollywood, it seems necessary to provide this safety check-in feature for women in Hollywood to let their social media followers know that they have survived potentially dangerous situations, such as auditions, introductory coffee meetings, or script readings."
The announcement came shortly after dozens of survivors came forward with allegations against famed producer Harvey Weinstein and other Hollywood elites.
"We know that there are a lot of creepy men who abuse their power over women in Hollywood, but we believe that this feature will help actresses, makeup artists, wardrobe consultants, production assistants –– literally any woman working in Hollywood whose safety may be threatened by some rich man claiming he can further their career," Zuckerberg continued.
Facebook's announcement comes as a relief to many women working in Hollywood.
"I'm not an actress or anything, but I do craft services on movie sets and there are always sketchy dudes making gross comments and telling me they can make me a star. I've already marked myself as 'safe' today after a producer tried to kiss me while I was unloading some supplies from the catering truck, so this feature is truly a God-send," Kelly Mason said. "As for tomorrow? I guess we'll have to wait and see."
Although the feature is currently only available for women working in Hollywood, upon the announcement last week, many Facebook users have reportedly flooded the social network's inbox requesting that the check-in feature is made available to women working in any city where men exist.
"I just started working part-time at Target and my supervisor is a total creep, so that check-in feature would be really helpful for me," one woman posted as a Facebook status, and then added, "Actually, it would be helpful for literally every woman I know."