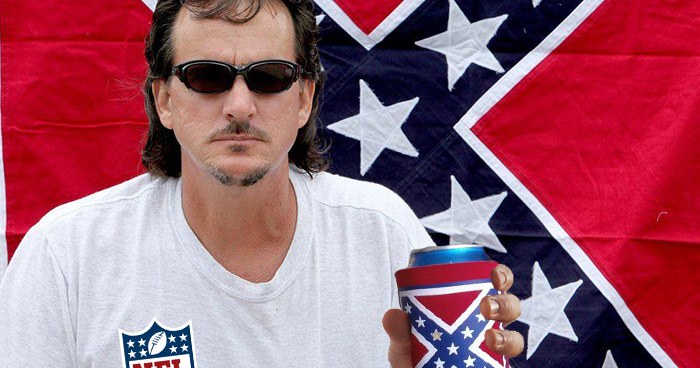 A man from Wetumpka, Alabama, holding a Confederate flag beer Koozie, announced this week that he finds NFL flag protests "Extremely disrespectful."
Jake Buxton, 42, shook his head and looked into his beer, stating, "These thugs who refuse to stand during the national anthem are acting like God damn children – don't they know what their military fights for?" Buxton then took a sip from his Limited Edition Bud Light American Flag can.
Buxton – who has been wearing the same skidmarked American Flag boxers for the past three days – says he is outraged at what he feels is the "Total and blatant disregard for one of the most precious symbols to the greatest Nation on Earth."
He notes that the American Flag "Is meant to be revered and respected, which is why I have a Donald Trump Thank You Tour stars and stripes sticker on the bumper of my Ram 1500 right now."
When asked if he is going to continue supporting the NFL, Buxton replied, "I'm done with that circus. These clowns are too stupid to find a way to peacefully protest, and Roger 'Snowflake' Gooddell won't nut up and fire them?" Presumably, Buxton was speaking of many NFL players decision to silently take a knee during the National Anthem, before continuing to play an uninterrupted game of Football as per usual.
Though Buxton owns 19 different pieces of Confederate memorabilia, he thinks the anger surrounding the controversial symbol is unfounded. "Anyone who thinks I don't have the right to express myself and feelings about my country is a complete and total idiot who needs to read our constitution."
Buxton says he will continue boycotting the NFL until the players who choose to protest using their First Amendment rights are either fired or suspended.
As of press time, he had updated his Facebook profile picture to an image of Uncle Sam bending the Statue of Liberty over Ellis Island from behind.