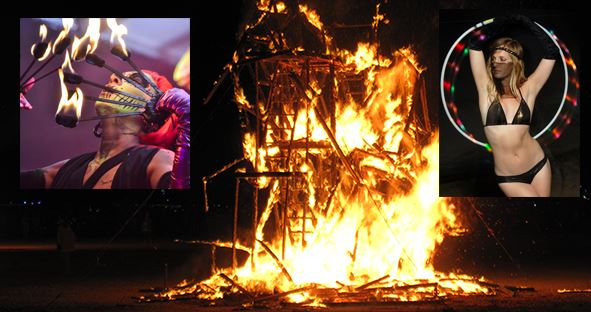 A fire ball was formed at the off-the-grid desert wonderland known as Burning Man after a hula hooper and fire spinner allegedly collided, starting a massive blaze that led to the disruption of a three-hour long fisting workshop underway that afternoon.
The fire is believed to have ignited when a hula hooper known only as Gem began performing a "primo move", tossing her hoop in the air while simultaneously completing a forward roll. Upon reaching to catch the hoop, however, she stumbled and knocked into an intergalactic fire spinner who goes by Destiny.
The furry boots and fake, colorful dreadlocks worn between them were said to have kindled the flames.
"It all happened so fast," one stunned witness said. "We tried to help put out the fire, but I only had my canteen on me and my boyfriend had his Camelbak, and that's our drinking water for the week. We packed for a gallon per day for each of us, but like, water is precious out here, ya know?"
Witnesses believe the high-speed velocity from Gem's aggressive hula hooping further contributed to the blaze, causing it to spread quickly to the Dusty Mustache camp, where matters were only made worse. Hosting approximately 75 participants, the industrial-sized buckets of personal lubricant purchased for the event combusted, setting the tent ablaze and sending pantsless burners running from the workshop amid the chaos.
Although only minor injuries were reported, many burners have suffered emotional trauma from the events that transpired.
"One moment we were a community, just exploring the space and being present, and the next moment we were caught in some fucking inferno that just blew right through our camp," said burner Shine Davies.
"You'd never think a giant fire could even happen in a place with so much dust and limited access to water, but it really makes you appreciate the preciousness of life, and also how deeply important it is to always use a water-based lubricant," they added.
At press time, a rescheduling of the workshop has yet to be confirmed, though several burners have taken it upon themselves to offer skill shares in the Orgy Dome after partner yoga.