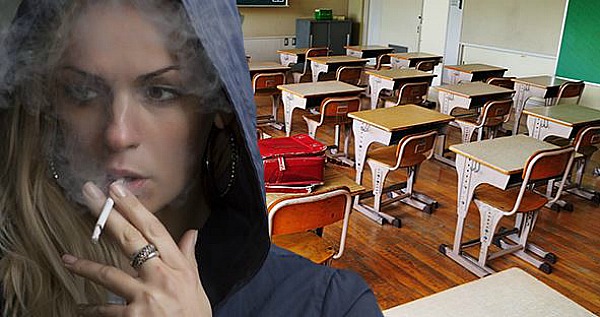 Following a "super relaxing" summer vacation, River Phoenix Elementary School teacher Samantha Erikson is reportedly preparing her return to the third-grade classroom, working on lesson plans, stocking up on copies of "The Indian in the Cupboard", and kicking heroin cold turkey in the days leading up to the start of the school year.
"Most teachers look forward to the summer breaks, but not me," Miss Erickson said, while handcuffed to a sweat-soaked mattress. "I really miss having that close connection with the kids. The feeling of deep satisfaction that comes with helping young minds develop… honestly, a bundle of China White is just barely a substitute for that kinda high."
Beloved by her third graders for her American history sing-a-longs, fuzzy animal sweaters, and for handing out glittery banana stickers to recognize school work that made her "go bananas," Miss Erickson is also a hit with Jacksonville's drug scene.
"Miss Erickson is really nice," said area dealer known only as Southside Kyle. "She always asks how things are going at home when we meet at the drinking fountain outside the bathroom at KMart. One time, the shot I cooked for her was so good she gave me this bitchin' banana sticker afterward. I still have it!"
Julie West, Miss Erickson's life partner, says that the teacher is on track to be clean before the first day of school.
"The first 48 hours were really touch-and-go," West said, as she dabbed Erickson's brow with a wet towel. "A lot of puke, screaming, six escape attempts – but my Sammy angel is starting to pull through. She actually ate this morning, and the suicidal thoughts stuff seems like it's almost over, maybe."
The five-time winner of the school district's Blue Ribbon Award for Excellence In Elementary School Teaching remained optimistic that her crippling withdrawal symptoms would not get in the way of her work prep.
"I need to be my best self because that's what the kids deserve," Miss Erickson said in between bouts of full body convulsions. "They need someone who cares for them, nurtures them, and helps them make sense of the world. What they don't need is someone who spends all their time trying to find a vein that hasn't collapsed yet. They'll have plenty of time for that later."
At press time, Miss Erickson's repeated requests to leave the room for "recess" have been ignored.