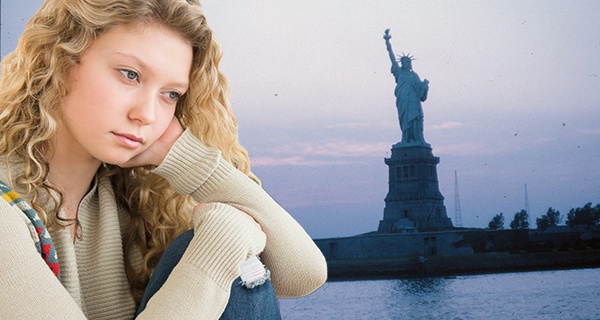 Brooklyn resident Fiona Preminger expressed her profound disappointment late Friday night upon learning that her best friends would be visiting from her hometown, thus forcing her to finally interact with the plethora of culture surrounding her.
The 26-year-old Orono, Maine native – who has been living in New York City for the last eight years – said she "couldn't believe" she was finally going to be compelled to enjoy the rich and endless array of experiences that have been at her fingertips for almost a decade.
"Ugh," said Preminger, "I just…have less than zero interest in going to a museum." Despite being surrounded by some of the best theater, food, and art in the entire world, Preminger would reportedly "rather eat nails" than wait in the rush line for Wicked or walk the High Line.
"I just know Becca and Jess are going to want to do the Sex & The City Bus Tour," Preminger remarked, noticeably tearing up. "And there's just no good way to tell someone you don't want to go to the 9/11 Museum. I've thought about it. A lot."
When asked if she'll ultimately be a good sport and go along, Preminger sighed deeply and stated, "Yeah…I mean I'm not just going to leave them to their own devices…but I swear to God if they make me get on a fucking boat to see the Statue of Liberty, I will jump off." When it was noted that Preminger's own relatives immigrated through Ellis Island, she responded, "Yeah, and they didn't come all the way here to go to the goddamn Natural History Museum."
Preminger – whose favorite activities in one of the most richly diverse cities in the world are mainly limited to going to her local dive bar, ordering Seamless from her favorite taco place, and watching Netflix in the apartment she's had for five years – is noticeably unenthusiastic about her friends' request that she, "find some cool new hole-in-the-wall bar to check out!"
Upon being asked if she would consider accompanying her friends to Madam Tussauds in Times Square, Preminger clutched her chest and gasped, "Oh my God – I had completely forgotten about Times Square."
At press time, Preminger's childhood friends were reportedly running three hours late after boarding the 2 train at Penn Station and accidentally riding it to The Bronx.