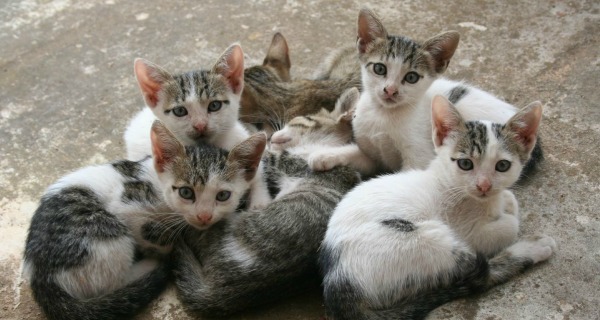 Three tiny, homeless kittens are working together to achieve the impossible in a Virginia home this week as they entered the fostered care of a local woman who volunteers at a nearby animal shelter. The determined trio will work together in a round-the-clock effort to make this self-proclaimed "animal lover" regret her decision to house them as quickly as possible.
"The post said they needed a temporary foster, and I thought it could be a cool experience, helping these cats find their way to their forever homes," says Angela Avila, 33, of Hampton.
At a mere six weeks old and weighing less than two pounds each, kittens Bonkers, Buttons and Felix entered the arrangement with the unspoken understanding that this would be anything but "cool" for the unsuspecting Avila.
"If I had to credit one thing for the complete breakdown our foster 'mom' is currently undergoing, it would probably be establishing a schedule that is in absolutely no way convenient, or even practical, for her own," said Bonkers, a tortoiseshell female. "From there we just take it one minute at a time."
The kittens will work as a team over next few weeks, taking turns systematically knocking over houseplants, climbing up pant legs, crying loudly for no discernible reason, and generally destroying anything they can get their tiny paws on, even if only for one second.
"There are no shining stars in the game of kitten foster care," says Felix, the grey tiger, and lone male of the group. "We pull a lot of inspiration from the Japanese work ethic, with the collective goal our only priority."
Despite leaving Avila questioning everything she ever believed about herself, and selfless acts of goodwill in general, the tiny trio is making the most of their six-week stay in their host's once beautiful two-bedroom apartment.
"It's really hard to pin it down to a 'favorite' moment, but I think I'd have to narrow it down to violently refusing to take our medication, and constantly terrorizing her old-ass dog," recalls black shorthair, Buttons. "We took over that pathetic fuckers bed in like, the first five minutes."
Although happy to have found a temporary place in which to reside, the three are well aware of the deadline, which Avila announces upon waking up on a daily basis. "Until then, we'll just continue to shit constantly, doing our best to make sure it lands just outside the gigantic litter box she cleans for us every day."
Bonkers, Buttons, and Felix will be available to good homes in six to eight weeks. Come on down to the Virginia Beach location of the SPCA and meet these adorable little critters for yourself–you're sure to fall in love!