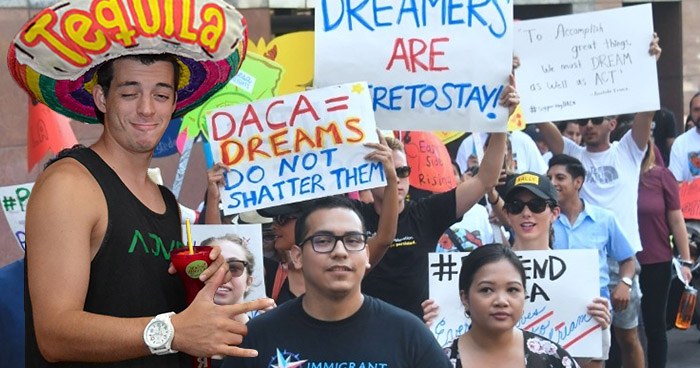 Attorney General Jeff Sessions announced Tuesday that the Trump administration would follow through on plans to repeal DACA, an Obama-era policy that protects undocumented children who were brought into the U.S. by their families, from the threat of deportation.
Many have called this decision cruel, considering that a vast number of children have never experienced life anywhere outside the United States. Bo Kirby, son of a prominent U.S. Congressman, takes a different view.
"So when I want the government to bankroll my spring break trip to Cancun it's, 'No, Bo, you can't use federal funds for personal reasons' and 'No, Bo, you're still on state-mandated house arrest', but then all these Hispanics just get a free ride across the border? I call bullshit."
Kirby, who had the opportunity to visit Mexico over Spring Break 2015, says he found the local culture to be rich and vibrant, and can't understand why everyone is "all like, losing their shit and shit."
"I have no idea what these people are complaining about – I laid on the beach for seven hours a day and went to Señor Frog's every night," he explained. "I mean these dudes just literally paddled us everywhere in a fucking banana boat – like, Mexico, te quiero, am I right? As far as I'm concerned, these DACA kids have got a one-way ticket to Lit City and it's on my tax dime."
Though the young Kirby has yet to pay taxes (he's finishing up his sixth year as an undergrad at Texas Christian University), he feels strongly that it's natural born citizens who are on the true losing end of this deal.
"You wanna talk about DREAMers? Let's talk about my dream – taking another Macho Cuervo shot or ten from in between a lovely Señorita's tatas," he explained. "Where's my bill, Congress?"
While Kirby admits he has yet to actually hold a job, he also shares the concerns of some Americans that DACA beneficiaries are taking employment opportunities from natural born citizens.
"Why should Jose be allowed to stay here and work some job that I'm perfectly qualified for?," questioned Kirby, who will work a part-time internship at his uncle's law firm this fall.
When asked if he feels for the hundreds of thousands of people who have been raised completely within the U.S. and may not even speak Spanish, Kirby empathized, stating, "Yeah I mean that kinda sucks but there are tons of dope apps for that stuff – they've got shit like DuoLingo and Rosetta Stone all over the place now. 'Una cerveza más,' 'llama al abogado de mi papá,' what more is there to know?"
As for the three-quarters of a million undocumented youth shielded by DACA, Kirby says he'll see them the next time he's in Mexico.
"I'm going with my fraternity this March and we're really committed to doing an hour of community service while we're there so if any of these deported kids need, like, a wall painted or something, they can hit me up," he said. "It's so important to give back."