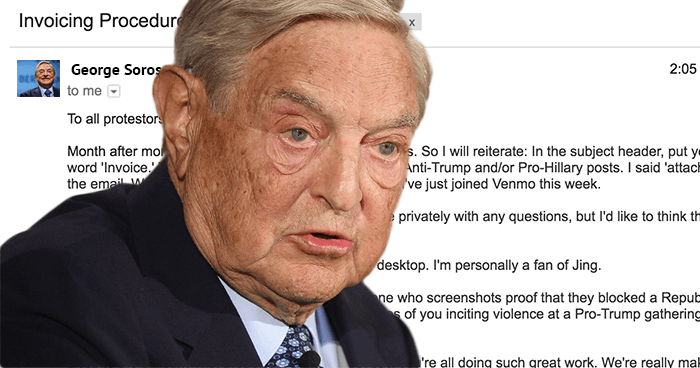 In an effort to ensure all compensation is delivered correctly and promptly, famed Hungarian-American investor and philanthropist George Soros emailed his followers yesterday, reminding them to attach screenshots of all their Anti-Trump posts before e-mailing their invoices.
"Month after month, I am faced with the same headaches," Soros wrote. "So I will reiterate: In the subject header, put your name, the month, and the word 'Invoice.' Then, ATTACH the screenshots of your Anti-Trump and/or Pro-Hillary posts. I said 'attach.' Do not put them in the body of the email."
"If this is still difficult to comprehend, please e-mail me privately with any questions," said the 86-year-old Political Influencer. "But I'd like to think that was all pretty clear. Then again, I've been wrong before."
"Also, please crop your images if you're using your desktop," Soros added. "There's plenty of decent Screenshot Applications you can use. I like Jing, myself."
Soros has been known to use the money he obtained through shrewd investments as a means to alter political outcomes and climates for decades now, but with social media, he has been able to do this is in a far more streamlined way.
Since Donald Trump defeated Ted Cruz in the primaries last year, Soros has sent forty dollars American into the Venmo accounts of liberal Facebook users all over the nation in exchange for this digitized visual evidence of their great disdain for the 45th President. From the vulgar and poorly worded posts to the more well-punctuated and concise, the Billionaire Puppet Master has made good on his promise to compensate any and all status updates that further his Zionist Global Agenda.
"And remember, this month I'm offering $20 to anyone who screenshots proof that they blocked a Republican relative on Facebook. That should be easy money for a lot of you. And any videos of you inciting violence at a Pro-Trump gathering are always icing on the cake of democracy. I'm offering $15 for every landed punch."
"Despite the difficulty with proper invoicing, I must say, you're all doing such great work," Soros concluded. "We're really making a difference. Keep your eyes open for any Facebook notifications from me, as Phase Two should commence any day now."