Look, Todd, I'm sick of you calling He-Man gay, not that there  would be anything wrong if he was, he just happens to be straight. When Prince Adam wasn't crushing Skeletor's minions he was crushing pussy like it was going out of style. He-Man has more heterosexuality in one fur-lined  boot than you have in your whole stupid body; in fact, all of the Masters Of The Universe were just oozing testosterone and machismo and I can prove it.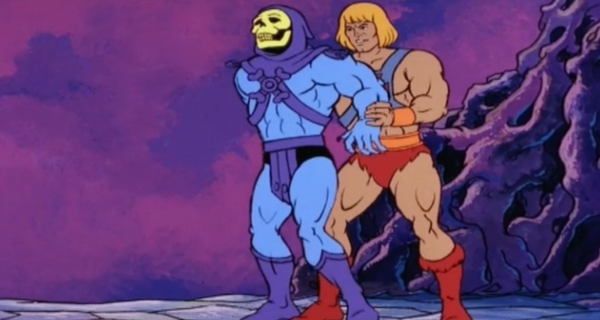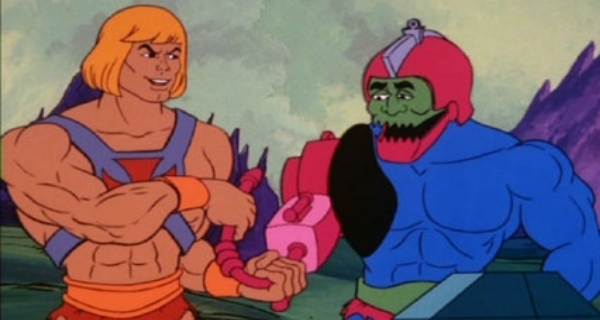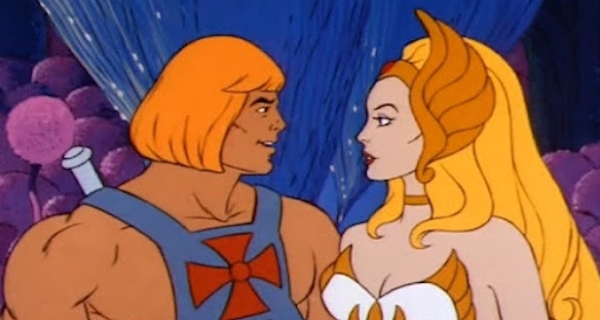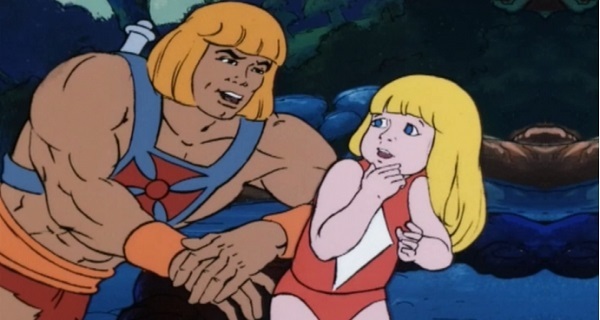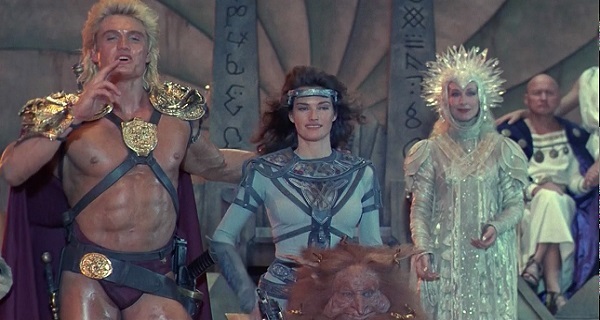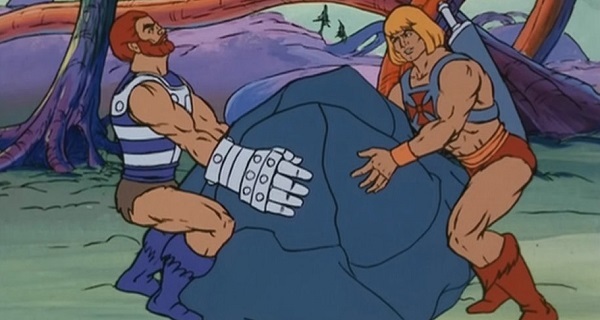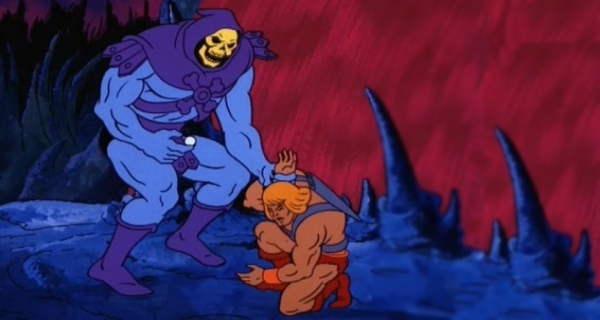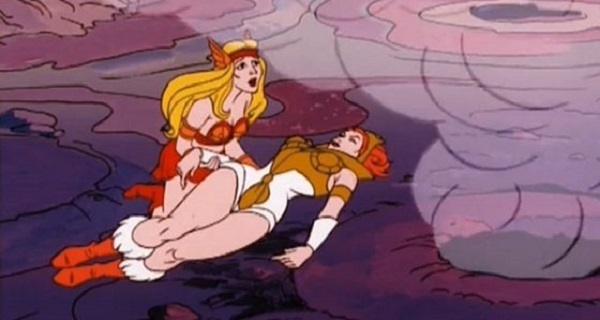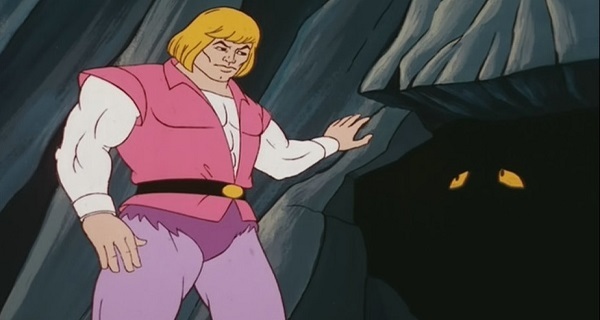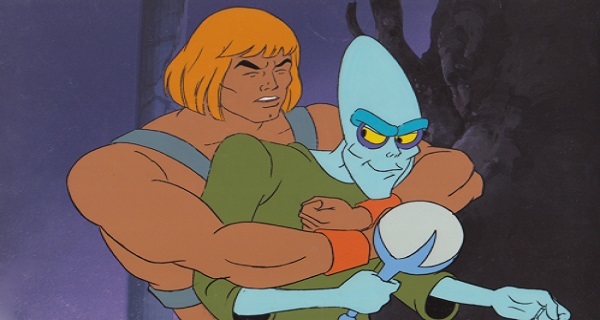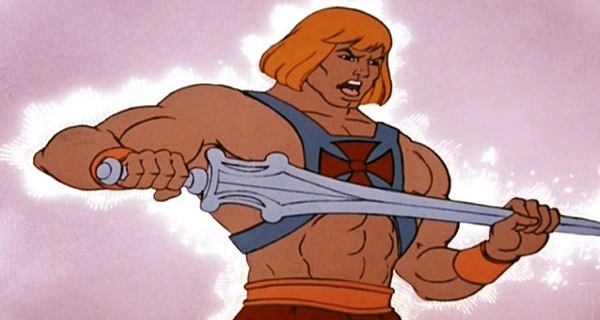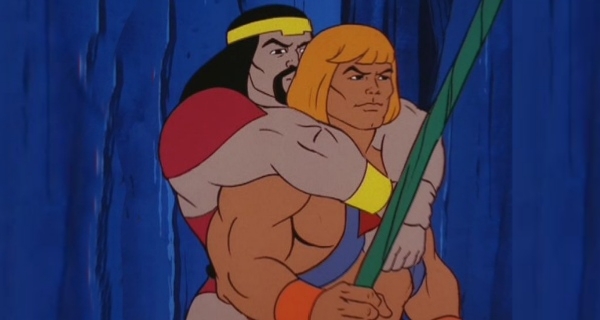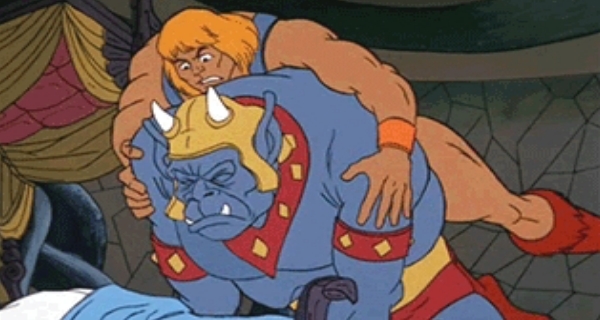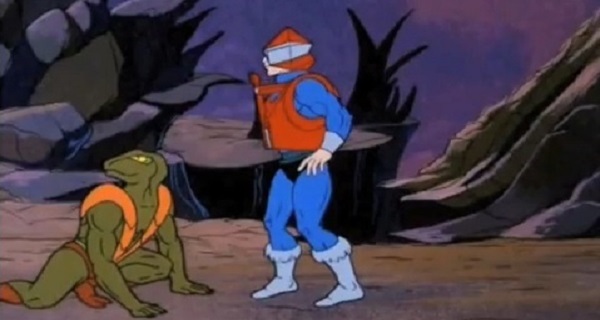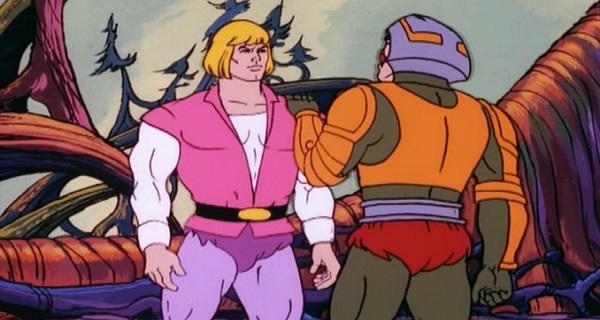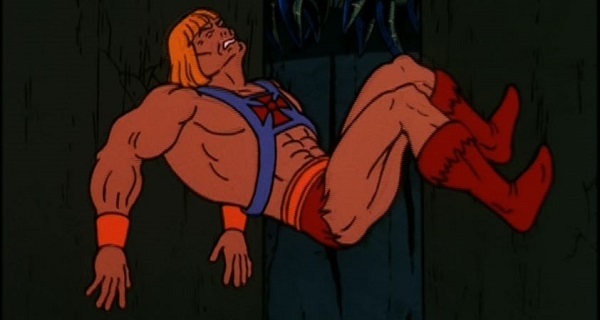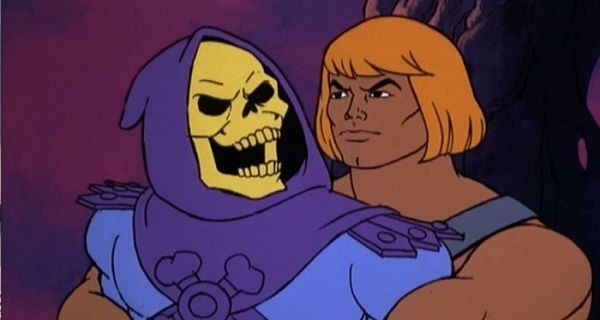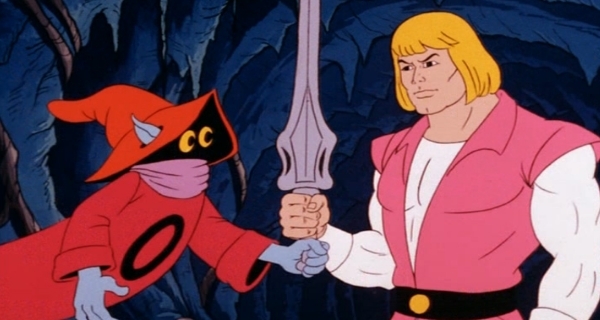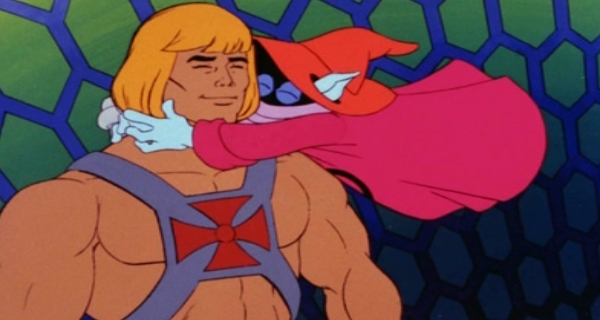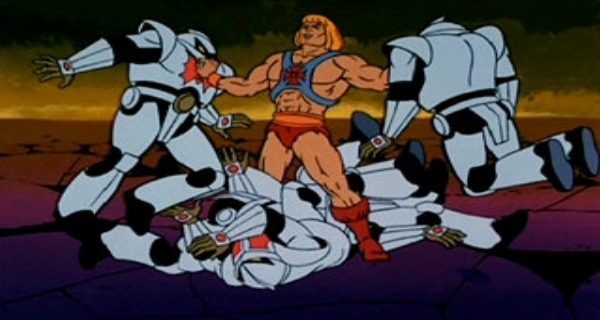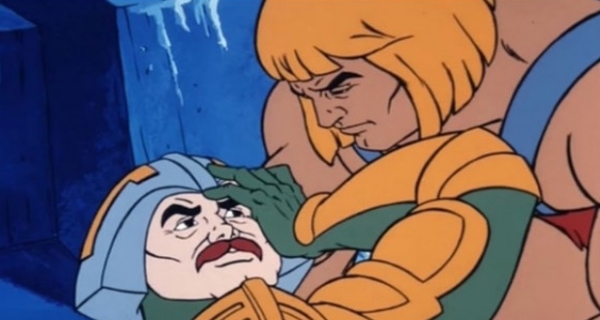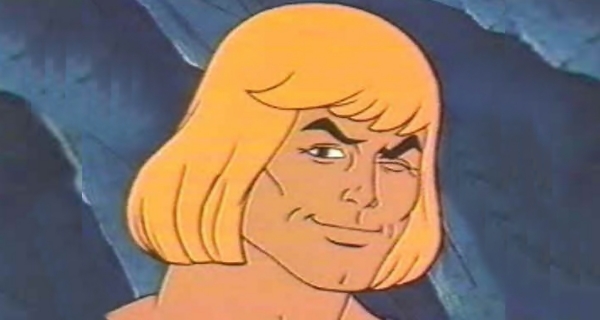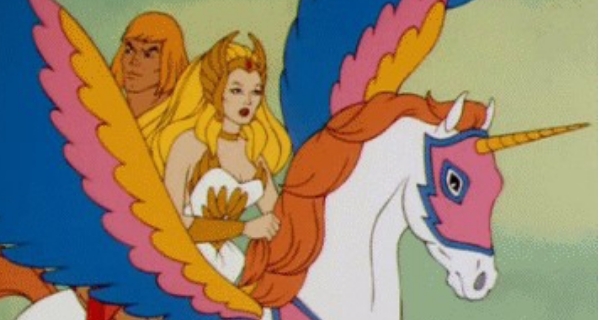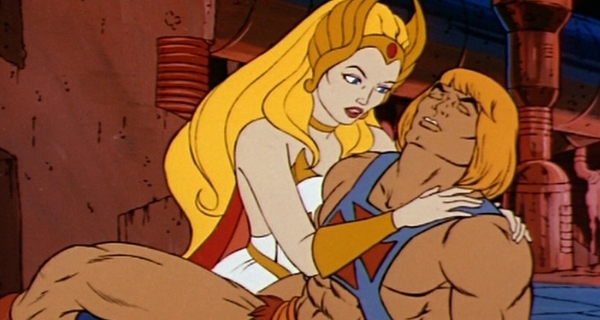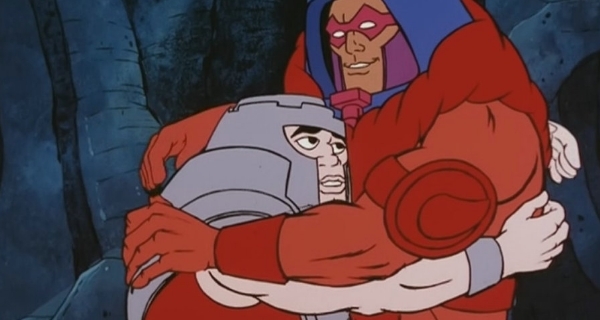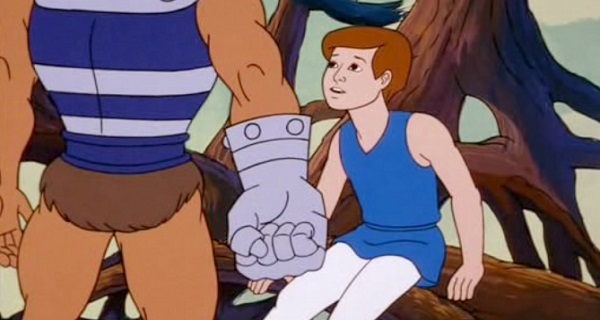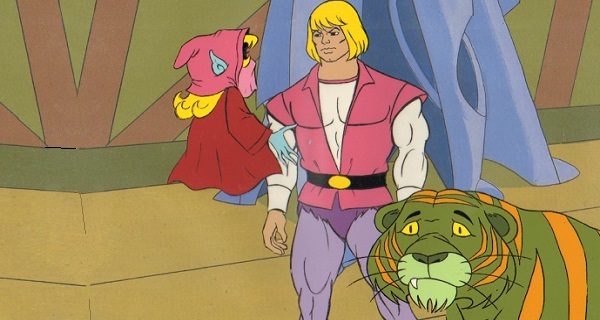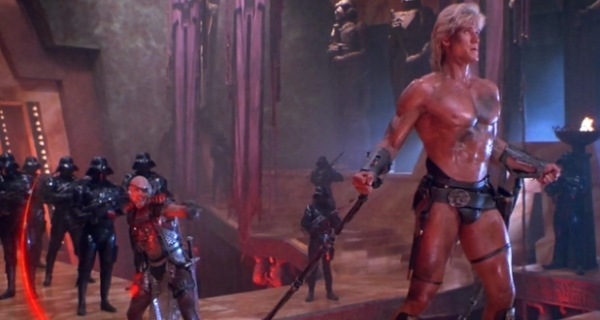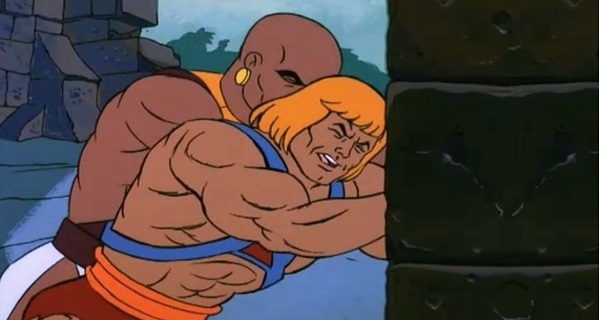 Nothing gay about this picture. Beast Man is nearly pissing himself because He-Man is about to pound his ass and…er…bad choice of words, let's move on.
Here we have He-Man taking Skeletor from behind...er I didn't mean it like that, He-Man is obviously about to fuck him up…oh forget it, next.
He-Man is so strong he has no problem bending steel, like Trap Jaw's mechanical arm. No Todd, it does not look like he's bending a big pink dildo to perfectly match the contours of his rectum!
See, He-Man clearly likes chicks, look at him making eyes at this sexy blonde! Oh wait, that's his sister...uh…never mind.
Okay, here's He-Man talking to a girl other than his sist - dear god, that's a creepy look to be giving to child…next picture.
Ah good, the live action Masters of The Universe Movie. Look at how hetero He-Man looks in this picture, it should be called Masters of The Pooniverse with all of the girls he's gonna be taking home.
All I see here is two buddies teaming up to lift a large rock. NO TODD THEY ARE NOT SPITROASTING THE ROCK!
This is just Skeletor overpowering He-Man and NOT Skeletor trying to force He-Man to perform oral sex like SOME people have implied.
This is 100% not two women pleasuring each other because they've given up on He-Man ever seducing either of them.
It may look like Prince Adam is about to treat that opening in the rocks like a giant, sad, glory hole but that's not at all what's going on in this picture.
He-Man is just holding this guy tightly from behind to try to keep him from getting away, that's all. NO TODD, HE-MAN IS NOT IN THE VINEGAR STROKES!
He-Man is such a badass that he holds onto the blade of his sword with his bare hand. No, he's not surrounded by cum-lightning Todd, what the fuck is wrong with you?
Well, this is clearly just He-Man giving a guy a piggyback ride. Yes, it does look like the guy is sniffing He-Man's hair tenderly Todd, maybe He-Man's shampoo smells good, did you ever think of that? NOT EVERYTHING IS SEXUAL TODD!
Okay, yes this looks very much like He-Man is getting a happy ending from his sister buuuut, she's a chick so it still counts.
He-Man is...okay it kind of looks like He-Man is sodomizing this guy, but I'm sure he has a good reason for it, like maybe it's some new fighting technique he's trying out or something. THE ROMANS USED TO FUCK EACH OTHER ALL THE TIME IN A DECIDEDLY NOT GAY WAY, TODD.
Here we have one of He-Man's allies Mekanek right after he's subdued a lizard man; looks pretty straight to me! No Todd it does NOT look like someone walked in on them mid-BJ!
Here's Mekanek and Buzz-Off just - wait does that guy's neck and head look like a dick to anyone else? Todd, back me up here, that dude has a neck like a cock shaft right?
I'm sure that Man-At-Arms is having a serious discussion with Prince Adam AND NOT SOLICITING HIM TO COME TO HIS DUNGEON LATER AND BE HIS SUB, TODD!
He-Man is making that face because he is straining to hold himself between those two walls. That is not his "O-face" and he did not just "jizz in his fur shorts" because he was thinking of Skeletor's "bony rod."
Just because we can't see their crotches or butts in this picture does NOT mean that they are combining them to form "Gaytron," Todd.
Notice how Prince Adam is giving Orko that stern look for grabbing his sword and NOT because he wants him to grab his "sword." YOU DON'T HAVE TO BE GAY TO DRESS LIKE A VILLAGE PERSON, TODD.
Awww...look at that platonic display of affection between bros. No Todd, He-Man IS NOT JERKING OFF OUT OF FRAME!
For the last time Todd, this is not a "robot-orgy" and these are not "cyber-pimps" looking to run a train on He-Man with their "bionic-dongs." If it were, WHY would he look so happy about it??!?
No, He-Man did not slip any Rohypnol into Man-At-Arms' Sierra Mist Todd, they don't even have Rohypnol on Eternia. Or Sierra Mist for that matter.
This is a reassuring wink aimed at the viewer. It is NOT a sex wink.
I swear this is She-Ra's horse.
Look it's He-Man macking on another chick! Shit, it's his sister again, nevermind.
Ram-Man is just giving Man-E-Faces a reassuring hug - hold on, Ram-Man? Maybe you're on to something after all Todd.
His NAME is Fisto, not his hobby, Todd.
I'm sure that there is a reasonable explanation for Orko to be dressed up as a woman, just as I'm sure that there is a reasonable explanation for Cringer's sad "PLEASE LET HIM USE LUBE THIS TIME!" face.
Whips and chains don't automatically mean BDSM, Todd, seriously.